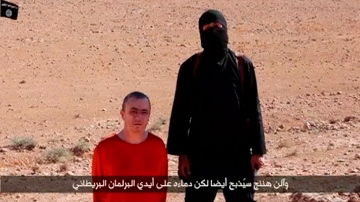 UK Prime Minister David Cameron has vowed justice against Alan Henning's killers. He said he will "use all assets" to destroy the Islamic State fighters.
After returning on Friday night (October 3) from Iraq, he met with officials from the Foreign Office, intelligence services and military at Chequers, his official country residence.
He said: "We must do everything we can to hunt down and find the people who are responsible for this." And he added: "We will use all the assets we have, as we have been up to now, to try and find these hostages, to try and help these hostages, to help their families and do everything we can to defeat this organisation which is utterly ruthless, senseless and barbaric in the way it treats people."
Alan Henning was also praised by the Prime Minister for his "kindness, peacefulness and gentleness".
The video, which showed Mr. Henning's beheading, was posted on You Tube with another message to America and the allies. In the video, which lasted for one minute and 11 seconds, the taxi driver was kneeling in front of the militant, dressed in red and spoke to the camera.
He said: ""I am Alan Henning. Because of our Parliament's decision to attack the Islamic State, I, as a member of the British public, will now pay the price for that decision."
Then it shows him being beheaded with a long knife by the masked killer, who then spoke to the camera with a British accent and directed a statement at Mr. Cameron: "The blood of David Haines was on your hands, Cameron. Alan Henning will also be slaughtered, but his blood is on the hands of the British Parliament."
At the end of the video the militant says another hostage, Mr. Kassig will be the next victim. The US charity worker was then paraded in front of the cameras.
The UK Muslim community condemned Mr. Henning's murder, which came on the eve of the Islamic festival Eid Al-Adha – the "great day of mercy". There are fears the beheadings will lead to a global backlash against the Muslim community.