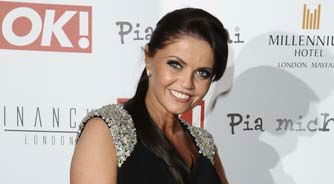 Danniella Westbrook appears to have put her troubled summer behind her and has flown to Los Angeles to seek pastoral care from Jay Haizlip, the former skateboarder, reality TV star and senior pastor of The Sanctuary in California.
A source told the Daily Mirror: "She hasn't been to Church for ages but wanted Jay's spiritual advice as she tries to get over her troubles.
"She is bravely facing up to her problems – and believes God can help her overcome the turmoil in her private life."
She previously worshipped at The Sanctuary when living in Los Angeles with her former husband Kevin Jenkins.
After relationship troubles with her fiancé, 24-year-old Tom Richards, Danniella 40, fled to Magaluf in April and threw away 12 years of hard earned sobriety.
The former EastEnders star confessed to a romp with a dealer who gave her cocaine in Magaluf.
"I have cheapened myself," she admitted. "I have cheapened who I am, but that is a direct example of what drugs and alcohol do."
After taking three lines of coke, Danniella was left to fend for herself at the resort and ended up sleeping on a beach, alone.
Talking about taking coke, she added: "I feel stupid and a fool. I thought he liked me, silly woman.
"I was offered coke and I took it.
"The most frightening thing was I didn't think about it at all, I just ******* did it and that's probably more scary than planning it."