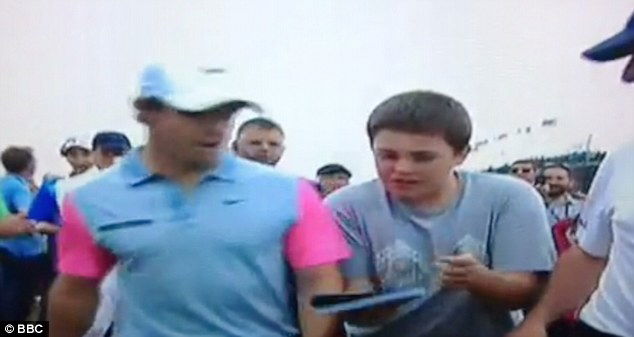 It seemed cruel as a young lad was refused an autograph by his hero but McIlroy had an excuse.
Some fans were upset when it appeared on TV that the Northern Irish golfing superstar coldly rejected a young fan's pleas for an autograph. The incident occurred just after Rory clinched The Open so you would have assumed that the star would be in a giving mood, yet the fan was shunned.
However, fellow golfer Ian Poulter quickly cleared things up on his Twitter account. He tweeted, 'Just to clear up the signature thing. We are asked not to sign autographs until we have officially handed in our scorecards. #RulesAreRules.'
It wasn't Rory's only unfortunate incident with a spectator on his triumphant day. The 25-year-old, had a fan ejected from the club on the sixteenth. Despite the fact that Rory struck a near perfect drive down the fairway, he took exception to a spectator who was making noise as Rory was executing his backswing. He later claimed that the man in question had been heckling him all day.
[iframe width="640″ height="360″ src="//www.youtube.com/embed/Z4U4Irnlr2U" frameborder="0″ allowfullscreen ]
You Tube- Shazzy Mazzy1