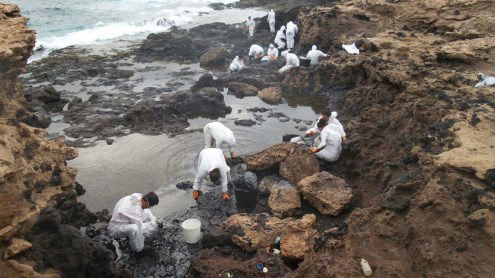 An oil spill, thought to have come from a passing ship has washed up on the Canary coast. The environmental disaster comes just weeks after the Spanish government announced that they would allow oil giants, Repsol, to conduct gas and oil drilling off the coast of the Canaries.
The slick has hit El Cabron beach in the town of Aguimes in east Gran Canaria. The area is extremely popular with scuba divers due to its rich variety of sea life.
Locals notified authorities after they noticed oil stains appearing across a kilometre of coastline, RTVE reports.
The source of the slick has not been officially confirmed. Marine Rescue and the Guardia Civil have taken samples to trace the oil's origin.
One hundred divers, dozens of local volunteers and council workers have been working on the clean up since Wednesday.
The Canarian government and many locals are opposed to drilling around their coastline and this will only fuel the flames of controversy. Nonetheless, Repsol are set to begin their exploratory drilling in October, 60km off Lanzarote.
"The spill at El Cabrón is a minute example of the potential dangers we face with the oil exploration," Canary President Paulino Rivero declared.
Supporters of the drilling have accused critics of pouncing on the spill for political gain.
[iframe width="640″ height="360″ src="//www.youtube.com/embed/WaacZxbIGrY" frameborder="0″ allowfullscreen ]
You Tube- Borja Suarez