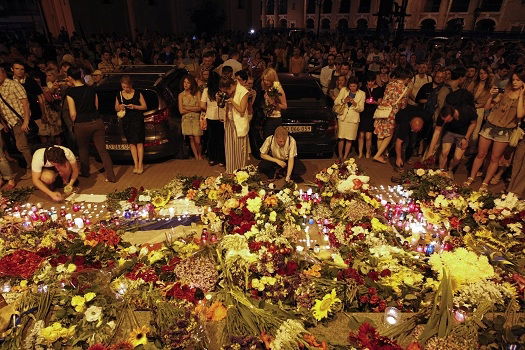 Six of the ten British victims of the tragic Malaysia Airlines flight MH17 have been named. They have left behind heartbroken friends and families.
Glenn Thomas
Originally from Blackpool, Thomas was a World Health Organisation press officer. He was going to Australia with a delegation of scientists and experts to attend an international Aids conference in Melbourne.
Over 100 other Aids experts and activists were in the plane on their way to Melbourne. Many of them were the greatest minds in the fight against HIV and Aids, including world famous HIV researcher Joep Lange. 
"The International AIDS Society today expresses its sincere sadness at receiving news that colleagues and friends en route to attend the 20th International AIDS Conference taking place in Melbourne, Australia, were on board the Malaysian Airlines MH17 flight that has crashed over Ukraine earlier today.
"At this incredibly sad and sensitive time the IAS stands with our international family and sends condolences to the loved ones of those who have been lost to this tragedy."
John Alder and Liam Sweeney
John, in his 60's and Liam, 28, were two massive Newcastle fans. They were on their way to New Zealand to see their team take on a New Zealand selection side in a pre-season friendly.
Alan Pardew , the Newcastle United manager, said today his players were 'deeply shocked and saddened' at the loss of two very 'dedicated' fans.
 The club commented that both men were familiar faces at every Newcastle away game, no matter the distance, and even could be seen reserve and academy matches along with first-team games.
Ben Pocock
Ben, from Bristol, was in his early 20's and an International Business student at Loughborough University. He had just finished his exams and was heading to Australia for a professional placement and to attend University of Western Australia as part of his third year.
Loughborough University said, "Ben was an excellent student and on course to gain a First class degree. He was also a fine athlete, who played on the University Athletic Union's Ultimate Frisbee team and won their 'Player of the Year' honour.
"We are in contact with Ben's family and are offering them all the support we can. We are also providing support for the University's staff and students.
"Our thoughts and sincere condolences are with Ben's family and friends, and with all those who have lost family and friends in the crash."
Richard Mayne
The 20-year-old was in his second year of a maths and finance degree at the university. He was on his way to spend a year in Australia and had a goodbye barbeque with friends just days before.
John Wood, Mayne's former headmaster said that "Richard was an extremely pleasant and thoughtful young man who gave his time generously for everyone," he added.
"Richard had a great thirst for life and he wanted to make the world a better place.  It is tragic that his life has been cut short, especially under these circumstances – he had such a great future ahead of him.
"The thoughts of all of us at The Dixie Grammar School are with Richard's family and friends at this most difficult time; he will be sorely missed."
Cameron Dalziel
A pilot living in South Africa, Cameron Dalziel, is the latest victim to be named and confirmed. He was 42 years old.
His brother, Campbell Dalziel, told Sky, "It was yesterday [Thursday] evening while we were watching Sky News – he had been in Amsterdam at a conference.
"If the reports are credible and true we are saddened by this news. It's not only him that was taken away from us."
"From an early age he always believed in helping people you know and encouraging people from being a lifeguard on the beach to flying helicopters.
"He was part of the sea rescue team. He never ever wanted recognition just you know he enjoyed it. He loved doing it. If he didn't love it he wouldn't do it. And that was my brother. I can't believe he's gone."
The other named victims
Mo Maslin, 12, Australian
Otis Malsin, eight, Australian                                             
Evie Maslin, 10, Australian
John Paulissen, Indonesian                                           
Yuli Hastini, Indonesian                                                        
Martin Arjuna Paulissen, five, Indonesian
Sri Paulissen, three, Indonesian                                                 
Elaine Teoh, student, Australian
Nick Norris, Australian                                                    
Albert Rizk, Australian, estate agent                       
Mari Rizk, Australian
Sister Philomene Tiernan, Australian, nun                   
Roger Guard, Australian, pathologist                     
 Jill Guard, Australian
Joep Lange, leading HIV expert                                     
 Pim de Kuijer, Aids expert                                      
 Martine de Schutter, Aids expert
Eugene Choo Jin Leong, Malaysian, pilot                     
Regis Crolla, Dutch                                              
 Azrina Yakob, Malaysian, air stewardess
Sanjid Singh Sandu, 41, Malaysian, air steward            
Shazana Salleh, Malaysian, air hostess                  
Angeline Premila, Malaysian, air hostess
The victims nationalities
Netherlands: 189
Malaysia: 44 
Australia: 27
Indonesia: 12 
UK: 10
Germany: 4
Belgium: 4
Philippines: 3
Canada: 1
New Zealand: 1
Unverified: 4