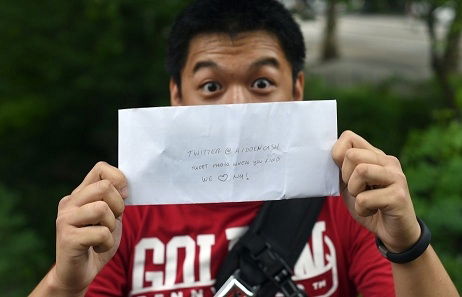 Malaga City Hall are considering taking legal action against the organisers of Hidden Cash. The social media craze hit the city on Saturday. They claim that the event has cost the city €2,000 in damages.
The 'an anonymous social experience for good,' is the baby of millionaire Jason Buzi, in which envelopes are hidden around a city, each containing €50 in cash.Cash hunters receive clues on Twitter on the whereabouts of these envelopes and race to collect the prize.
The event has gone smoothly in cities such as Madrid, New York and London. However, the Malaga version has been described as chaotic.
It was set to take place on Saturday, however, the clues on the Twitter feed didn't start until 4pm. Locals had already been looking in a local park for hours after receiving a false tip-off that the 50 envelopes were located there. Frustrated by the confusion and lack of success, locals trampled plants, ripped up manhole covers and emptied rubbish bins as they searched.
The envelopes were actually located in Gibralfaro Castle, with some locals finding them with sheer luck or word of mouth. Even though the lucky ones were tweeting pictures on their personal pages with their prizes, no news was given on the events official twitter page. Hence, hundreds of Malaga residents continued to hopelessly tear through the city.
"They didn't say anything about the winners. It's as if they're laughing at us," one woman vented to El Mundo.
This comes just days after $5,000 (€3,693) in damage was inflicted on a Californian park after the hunt. Organisers responded to the ensuing criticism by tweeting "Thank you to our supporters and to our critics – you should know we are only motivated by the best intentions."