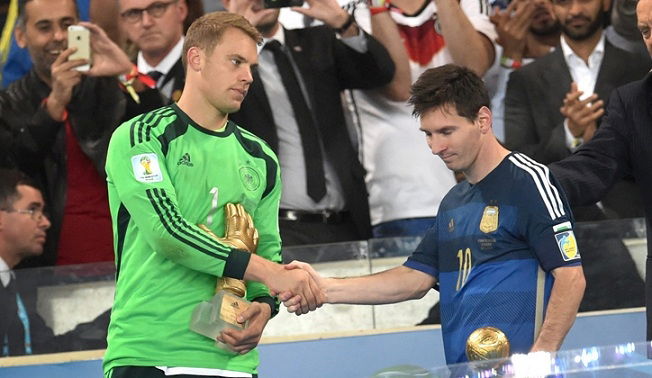 The World Cup individual prizes have been awarded with a few surprises and a bit of controversy.
James Rodriguez won the golden boot for finishing as the World Cup's top goal scorer with six goals. His tally helped Colombia reach the quarter finals, further than they had ever gone before. He netted against Greece, Japan, Ivory Coast, Brazil and scored two against Uruguay.
The German forward, Thomas Muller finished on five. A goal in the final would have given him the prize because even though that would have only put him level with the Colombian, his team got further so the boot would have been his. It wasn't to be.
Messi, Neymar and Robin Van Persie were all tied on four goals with Messi being awarded the bronze as his side reached the final.
Meanwhile, Messi was awarded the Golden Ball as best player in the tournament. This came as something of a surprise, especially after his subdued performance in the final.
Argentina coach, Alejandro Sabella said Messi's award was "very deserved,"explaining that "Messi played a great World Cup to get us where he did."
Messi, the four-time world player of the year, commented that, "The truth is it doesn't interest me at this moment."
The Barcelona star added, "We wanted to win the World Cup for all the people in Argentina and we couldn't do it. We tried, but we didn't have the luck we had in other games."
Many were not happy to see Messi get the prize, including Argentina hero Diego Maradona.
"Messi? I would give him heaven if possible," the star said on a talk show on Telesur. "But it's not right when someone wins something that he shouldn't have won just because of some marketing plan." The 1986 World Cup winner believes the award should have gone to Rodriguez.
Even FIFA president Sepp Blatter admitted that he was taken aback. "I was myself a little bit surprised when I saw Messi coming up to collect the best player of competition," he explained.
The Golden Glove went to German stopper Manuel Neuer, while French midfielder Paul Pogba was awarded the Best Young Player title.