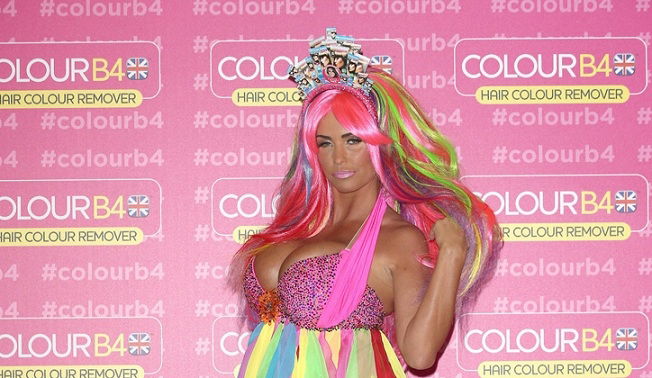 Katie Price hosted her baby shower in her home on Sunday. Sixty guests arrived to mark the occasion. Price is expecting her fifth child.
A few days ago Katie tweeted 'Does anybody know where I can hire pregnancy suits for men please for my baby shower this weekend xx.' 
Since this tweet, her page has been strangely quiet, with no new tweets in the last five days, which is a long time for Katie.
 She explained during a radio show last week that,'I've got my baby shower this weekend and I'm trying to get hold of pregnancy suits so the men can wear them.
 'I want them to do tasks and games while wearing them – they have to be in it the whole time. 
'Going to the toilet, helping with the barbecue. It's important for them to know how the pregnant mum feels,' she added.
Katie, 36, also spoke out recently on the radio about a possible name for her upcoming child. "My real name on my birth certificate is Katrina Amy Alexandra Alexis Infield. I don't know why my mum called me that!" she explained.
"I might name this baby Katrina to follow on my name though."
Price was also spotted working out at the gym with her estranged husband and father of her upcoming child, Kieran Hayler. They were even wearing matching his and her trainers.
The couple split earlier this year after Kieran had an affair with Price's best friend, Jane Puntney. Now it looks like the couple, who already have one child together, could be trying to work things out or at least, improve their relationship.