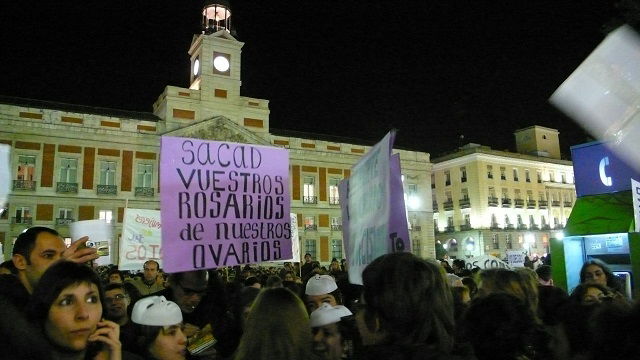 MORE than 80 film makers have worked together to film a massive demonstration against the reform of the abortion laws in Spain.
They are denouncing what they see as a step backwards to the times before democracy.
Alberto Ruiz Gallardon's law reform would make abortion legal in only two circumstances: pregnancy by rape or in the case that the pregnancy would have a damaging effect on the mother's mental health.
More than 30 years after the initial demonstrations in the 1970's the streets of Spain are hearing the same protests against prohibitive abortion laws; this time the slogan to be shouted is "I decide. The freedom train."
Esther Garcia, one of the producers of the film, commented that she first took to the streets to protest about abortion in the 70's and she could not believe that she was forced to do so again she said: "It's amazing to think that a government can arrive and in one fell swoop take away the rights so many fought for and which took years to achieve."
The film, which will be shown in cinemas and cultural centres across the country for free, was made by 19 camera teams at the massive demonstration on the streets of the capital as well as many other teams which recorded sections on all the trains that took the thousands of demonstrators from their more than 85 home cities to Madrid.
The title of the film refers to what may happen if the law goes through – Spanish women, who can afford it, will have to get on a train or plane and go abroad in order to exercise their rights on their own bodies.
The government is due to make its decision this month before they take their summer break.