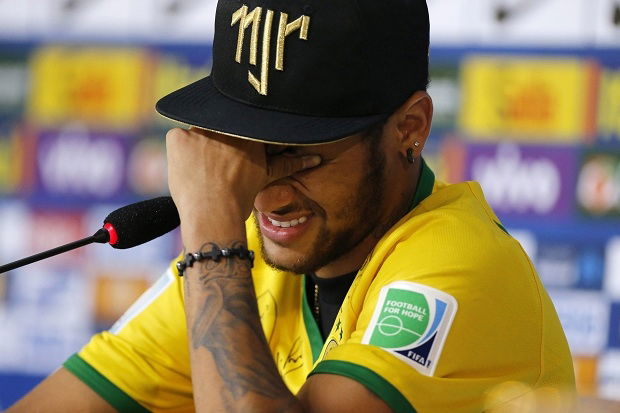 Football superstar, Neymar, has revealed that he came within two inches of being paralysed and left in a wheelchair.
The Barcelona striker suffered a fractured vertebrae following a knee in the back from Colombian defender, Juan Zuniga. At one point he claims he couldn't feel his legs.
Speaking in his first press conference since the incident the clearlyemotional star said, "I thank God for helping me, because if that blow had been a few inches lower I would have risked being paralysed".
"Zuniga called me a few days later to apologise and to tell me that he did not intend to hurt me. I accept his apology, but I cannot consider that a normal action.
"I cannot say whether it was intentional, but everyone knows it wasn't normal. The way he came in, behind me, I couldn't defend myself."
The tackle ruled the Brazil pin-up out of the World Cup and forced him to watch helplessly as the Germans destroyed his teammates in a humbling 7-1 thrashing.
He said, "What has happened is inexplicable. But even at 6-0, 7-0 down, they did not give up, they kept running, kept trying.
"I'm not ashamed to be Brazilian and I'm not ashamed to be part of this team. I am proud of every one of my teammates."
Neymar also took the chance to distance himself from his agents twitter rant against Brazil's coach  Luiz Felipe Scolari, in which he labelled him as a an 'old jerk, arrogant, repulsive, conceited and ridiculous'.
Neymar cleared the issue by explaining that "Scolari should stay as coach. I do not agree with what my agent Ribeiro said. He doesn't speak for me – only my father can speak on my behalf."