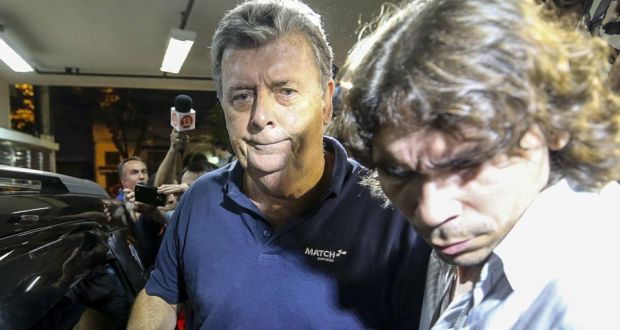 Ray Whelan, a British man who is the head of Fifa partner, Match Services, has finally turned himself in to Brazilian authorities. He was on the run for four days after fleeing his hotel to avoid arrest from Brazilian officials. 
He was accompanied by his lawyer, Fernando Fernandes, and stated to police he had been arranging documents for his defence, Brazilian media are reporting.
A spokesperson Whelan stated that "I can finally start my criminal defence."
 Whelan is a director of Match Services, a subsidiary of the Byrom Group who controls Fifa's ticket and hospitality rights, is alleged to have supplied tickets to a gang of ticket-touts currentlyworking in Brazil.
The gang is suspected of having operated in four World Cups and made over $90 million in each tournament.
He was taken into custody on Monday after being overheard on his tapped phone discussing a $25,000 ticket deal with LamieFofana, another suspect from Algeria. However, he was released on bail the next day.
However, a judge approved an arrest warrant for him and 10 others on Wednesday due to further evidence against them.
When police arrived at his hotel, the Copacabana Palace, staff informed them that he had left in a 'hurried manner' just one hour before.
The police have stated that, "Teams from the 18 Precinct (Flag Square), coordinated by the delegate Fabio Barucke, were at the Copacabana Palace Hotel on the afternoon of Thursday, to comply with a probation warrant issued by the court against Raymond Whelan. According to the delegate, the Englishman fled out the back door of the hotel and is now considered a fugitive."
Whelan left his passport with the police as a condition of his bail, however, officials are investigating the possibility that Whelan escaped on a private jet.
Jaime Byrom, the chairman and founder of the Byrom Group, disagrees with the police and has stated, "Notwithstanding our belief that the action taken against Mr Whelan was illegal and baseless, Match Services and I personally remain totally committed to assist the authorities from the 18th Precinct or any other jurisdiction in Fifa's fight against illegal ticket sales."