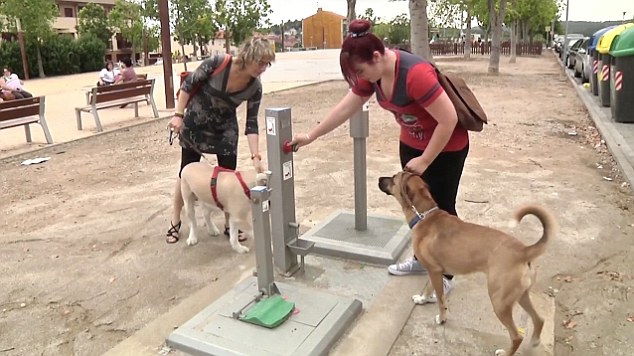 El Vendrell, a small north-eastern Spanish town has step up public dog toilets in one of its main streets. The metal device works much like a human toilet and was donated to the town by its creator, Enric Girona. His aim was to make it quick and painless to clean up after your dog.
The dog poop is deposited in a stainless steel basin through a hole in the lid and then flushed away by pressing down on a lever. There is also a water fountain and a urinal grille. 
At first, Girona came up with a few different models. Then he modified them as he learned more about dog behaviour. He pointed out the urinal as an example.
"But it doesn't clean everything, because the animal needs a certain odour to be lured to the toilet," said the inventor, from Terrassa, near Barcelona.
However, one dog owner complained, 'It's useless. What has been spent on this area could build a fence to let the animals loose inside.
'Animals are not toys. They defecate, urinate and return home. They also need to socialise.'
Another commented, 'The main problem for us, for the dogs, is the material, it's steel. I think it would be better with grass.'
However, not all dog lovers are against it. One said, 'I am in favour of it, if the mayor does not use this device to charge more taxes, then that's fine.
'But if we have to charge more to pensioners who are fed up with bills and fees, that does not seem right.'  
Spain is serious about tackling the problem of dog mess on its streets. The country has even hired private detectives to blend into the public and dish out fines to those who don't clean up after their pooch. EL Vendrell also fines people who leave their dogs mess in the streetup to €750.