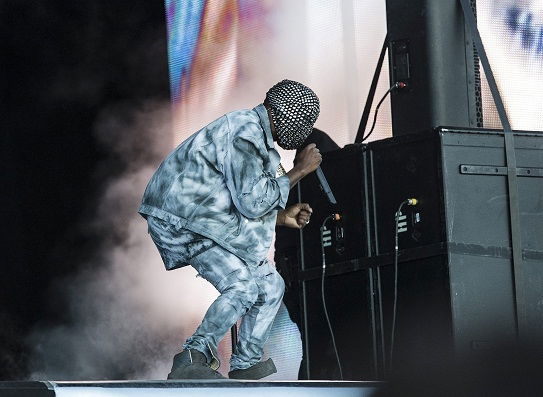 Kanye West was booed for the second night in a row at the London Wireless festival. The 'Heartless' star had been performing for 15 minutes when he started one of his infamous rants for the second consecutive night.
'I'm very shy in real life. Because I'm too shy to put out some b*******. Sometimes it's hard because I'm too shy to carry off a lot. I'm arrogant and shy and a little bit lazy. I'm too shy to lie to anybody and I'm too arrogant to make myself lie to anyone because lies take too much work,' Kanye told the disinterested crowd.
"You know I go to the studio till 3am so you can listen to the music in your car."
The crowd began to boo and chat "We want Drake". Drake was the original headline act but Kanye was filling in for him after he fell ill.
The night before, Kanye launched himself into a 20 minute speech about racism in the fashion industry. Kanye told speculators "I'm not going to mention any names but… Nike, Louis Vuitton and Gucci. Don't discriminate against me 'cos I'm a black man making music."
Kanye received a huge round of boos and jeers for this speech too. Angry fans took to Twitter to vent their frustrations.
One concert goer tweeted "If anyone is going to Wireless tomorrow GET A REFUND! Kanye sings for 20 minutes then literally does a speech for 35 minutes!!"
Perhaps it was the rapper's travel problems that put him in such a mood. Kanye was trapped for four hours along with the public in the Eurostar tunnel after the train broke down at Calais.
[iframe width="640″ height="360″ src="//www.youtube.com/embed/AHC4FwC7HK0″ frameborder="0″ allowfullscreen ]
You Tube- Mia Hole