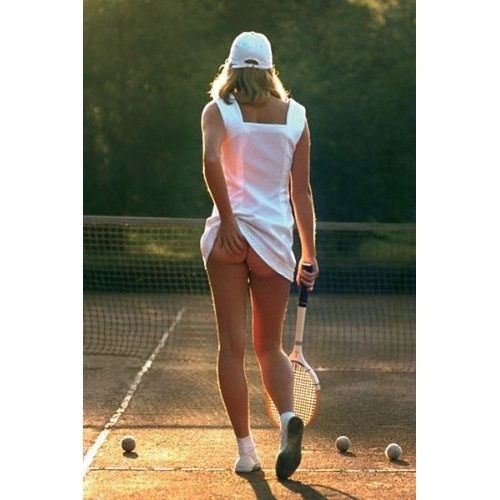 The white dress featured in the famous 'Tennis Girl' poster of the 1970s was sold at auction for £15,500 (€19,500).
Fieldings Auctioneers, offered the dress as part of a package that included, the racquet and two copies of the poster. At £15,500, it smashed its original estimate of £2,000 (€2,500)
The dress was worn by Fiona Butler at the time on the University of Birmingham campus. The iconic snapshot was taken by her then boyfriend, Martin Elliot. They split three years after the photo was taken.
Elliot, who died in 2010, sold the licence for the image to make the 1977 Athena poster. It went on to sell 2 million copies.
The poster girl's identity had been completely unknown until Butler, now 55, came forward in 2011.
The dress was made by Carol Knots who explained: "As I played tennis at the local club in Stourbridge, I bought a 'Simplicity' pattern and made my own dress, complete with lace trim. Fiona was a friend and one day asked if she could borrow my dress and racquet."
"When she returned them, she gave me a big box of chocolates as a thank you. I've had the dress tucked away in a cupboard for all those years. It's a little piece of tennis history and I hope someone might find it an interesting novelty item to buy."