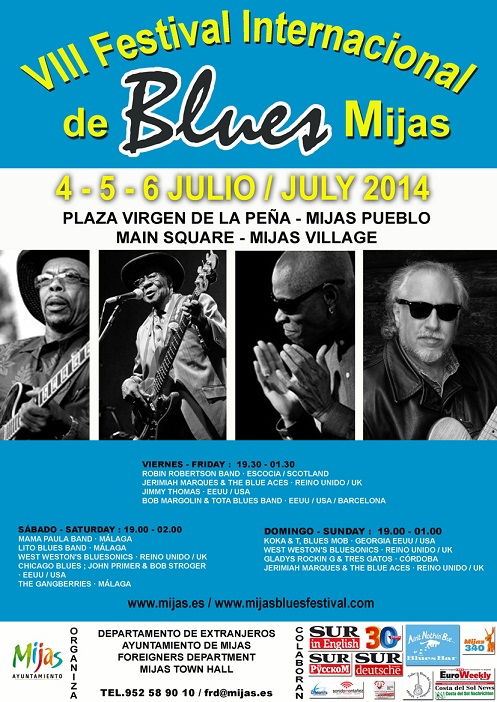 4th – 5th – 6th of July 2014
Plaza Virgen De La Pena – Main Square
Mijas Village
The white village of Mijas in the province of Malaga is once again going to celebrate the VIII International Blues Festival the 4th, 5th and 6th of July, when the beautiful white village will fill with Blues lovers from all over Europe to enjoy the eighth edition of this very popular event.
The Foreigners Department of the Mijas Town Hall and the Aint Nothin´But… Pub in London will be organising the eighth International Blues Festival. The Festival will take place in the main square of Mijas village, Malaga, Spain. The concerts during the Festival are free of charge.  There will bars set up serving international food and drinks.
Parking: Beside the Square where the event takes place; there is a 500 place parking lot which only costs €1 for all day parking (24 hours).
The Programme has been designed by Mr. Kevin Hillier, owner of the Aint Nothin´ But… pub in London which is a place of reference for the best international Blues in Europe. Artists from different places in the world will come together in Mijas and offer possibly the best concert of Blues in Spain.
Programme:
Friday -:  7:30pm – 01:30am
Robin Robertson Band · Scotland
Jerimiah Marques & The Blue Aces · United Kingdom
Jimmy Thomas · USA
Bob Margolin & Tota Blues Band · USA/ Barcelona
Saturday -: 7pm – 02:00am
Mama Paula Band · Malaga
Lito Blues Band · Malaga
West Weston's Bluesconics · United Kingdom
Chicago Blues With John Primer & Bob Stroger · USA
The Gangberries · Malaga
Sunday -:  7.00pm – 01:00am
Koka & T, Blues Mob · Georgia . USA
West Weston's Bluesonics · United Kingdom
Gladys Rocking & Tres Gatos · Cordoba
Jerimiah Marques & The Blue Aces · United Kingdom
For more information visit the oficial Website of the Mijas Blues Festival: www.mijasbluesfestival.com or [email protected]