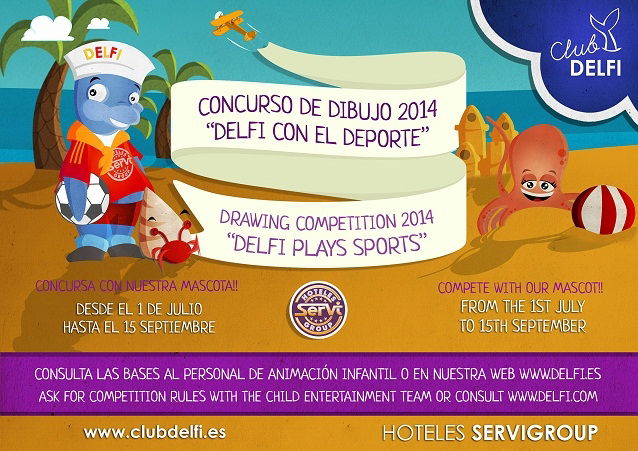 Servigroup Hotels launches drawing competition
THE fourth edition of a children's' drawing competition promoted by Servigroup Hotels' Delfi Club has begun.
It has been a successful contestcalled Delfi Plays Sports, whose purpose is to show the artistic talents and creativity of children. The star of the creations will undoubtedly be the company's mascot, a loveable dolphin who likes playing sports.
Any child aged between 2 and 12 years can participate, submitting a maximum of two drawings under the title of the competition. The pieces can be drawn on paper or card, DINA4 format. They can also be submitted by email to clubdelfi@servigroup.es in jpeg format and not exceeding 1MB in size. Any pictographic technique can be used: water color, painting, crayon, pencil crayon, marker, pen, etc. The drawing should be original and unedited and not have been used or awarded a prize in any other competition.
The entertainment team of the Servigroup's children's club will also provide all necessary materials for children to paint and colour Delfi. The closing date for the contest is September 15, 2014.
The contact details of the participants must be written on the reverse of the drawing (or in the content of the email if applicable) indicating the following: Drawing competition "Delfi plays sports", with the name of the child, surname, Passport or ID number, telephone and email address of the parent or tutor who authorises the participation of the minor.
The three winners will be awarded the following:
–         First prize: a  MAXI set of Delfi products.
–         Second prize: set of Delfi products.
–         Third prize: set of Delfi products.
The judge's decision will take place during the month of October 2014 and will be published on the website www.clubdelfi.com . The winning drawings will be posted together with the names of the winners on the club website.