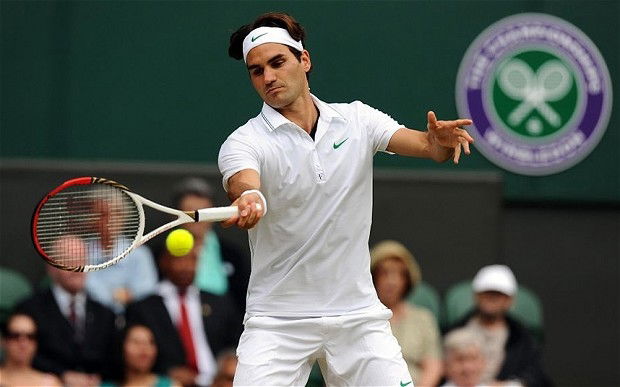 On the second day of Wimbledon, 32-year-old Roger Federer came through with a straight sets win 6-1 6-1 6-3 over Italian Paolo Lorenzi.
The Swiss's world No. 82 opponent managed to save five match points, but it wasn't enough as Federer predictably qualified for the second round of Wimbledon.
Following his Grand Slam victory in Australia earlier this year, Stan Wawrinka, made a convincing start at Wimbledon yesterday with a 6-3 6-4 6-3 defeat of Portuguese João Sousa. Although not seeded in the top four at Wimbledon, the world No. 3 played an elegant game and dismantled Sousa with several strong single handed backhands.
World No. 1 Rafael Nadal's opening game against Slavak Martin Klizan went less swiftly, with the 28-year-old Spaniard taking four sets and three hours to finally take the win on Centre Court, 4-6 6-3 6-3 6-3.
The 6ft 4in Slovak played with courage and looked to be on the verge of embarrassing Nadal, who was determined to survive after his shock exits of the last two years.
Defending champion Andy Murray is scheduled to face another giant, the 6ft 4in Slovenian Blaz Rola on Centre Court today. "He's a big guy. He takes chances," Murray added. "He probably doesn't have much grass-court experience because he hasn't been on the tour that long. He's going to do well, for sure, because he has weapons."