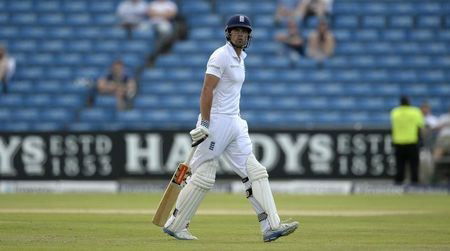 Sri Lanka look to be on the brink of a first series win in England as they took a stranglehold on the cricket test match at Headingley on day four.
England were reduced to 57 for 5 chasing 350 for the win after Sri Lanka scored 457 in their second innings.
The fourth day of the second and deciding test was disastrous for Captain Alastair Cook, who managed to survive for an hour to score 16. The left handed opening batsman, for so long the mainstay of the English batting, is now in a slump of poor form. He has managed just 601 runs in his last 24 innings at an average of 25.
Former England batsman, Geoffrey Boycott, who said on BBC. "It's a recipe for resignation. I don't know if he will, but it is."
The Sri Lankans, led by a masterful captain Angelo Mathews and supported by Rangana never looked troubled as the captain scored a brilliant 160 to put Sri Lanka into a winning position.
England Batsman Ian Bell said: "It's absolutely gutting, we're 57-5, so you can't only say the bowlers got it wrong. The plan was to get the ball full and we didn't do that."
In the space of two days England moved from a position of utter dominance to a position of utter devastation. Sri Lanka, with plenty to spare, are likely to wrap up the win quickly today.