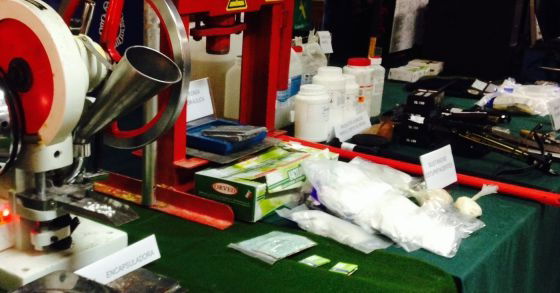 A total of 11 people have been detained and two laboratories have been dismantled in an operation in Granada in which a whole criminal network, dedicated to the making and selling of ecstasy all over the country, has been broken up.
The operation was a joint effort between the Guardia Civil, the National Police and the Inland Revenue Service and the 11 people arrested all stand accused of crimes against public health and belonging to an organised crime group.
During the seven searches carried out in the Granada area the police have confiscated almost a kilo of "speed", hashish, marihuana and cocaine, three kilos and a half of chemical products used to "cut" the drugs consisting of caffeine, procaine, fenacetine or inositol, chlorohydric and sulphuric acid, a fridge containing around 100 boxes of anabolic steroids and four balaclava helmets.
The operation started back in May in Malaga when the police got wind of a deal going down for a large amount of drugs – they intervened and confiscated around €37,000.
Following this their investigations led them to the arrest of a person known to them as a suspect in the killing of a local policeman in Granada who, at the time, was in possession of two fire arms and several items used in the making of drug packets.
The operation is still ongoing as the police suspect there may be more people implicated.