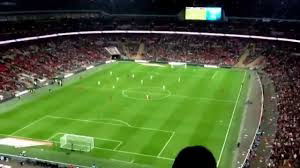 A video which shows the moment a paper plane strikes a player on the pitch during the England football team's recent victory over Peru has gone viral on YouTube. The video, which has been watched by nearly a million people, shows an England fan throwing the paper aeroplane from high in the Wembley stands on Friday.
Spectators cheer as they chart the plane's flight, watching it glide over fellow fans and across the pitch.
The plane finally reaches its destination when it strikes a Peru player, to the delight of the stadium.
England beat Peru 3-0, with the great result leading to high hopes for the team in this summer's Brazil World Cup. 
[iframe width="560″ height="315″ src="//www.youtube.com/embed/ZdaO6t7utwo" frameborder="0″ allowfullscreen ]
Video: YouTube/Heather Elizabeth.