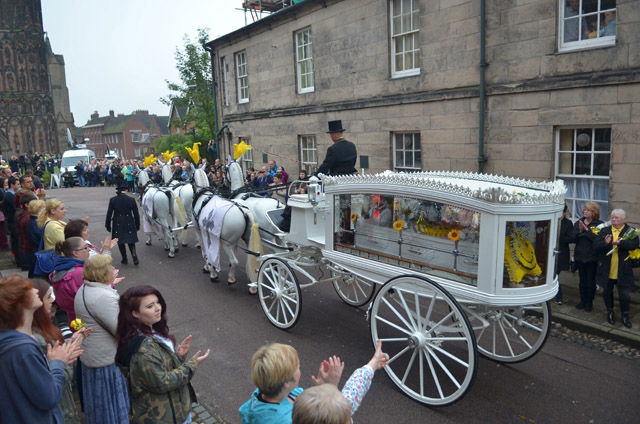 Thousands turned out to remember Stephen Sutton, the inspirational teen who has raised over £4million for Teenage Cancer Trust. Ahead of his funeral thousands queued outside Lichfield Cathedral in Staffordshire to pay their respects to the teenage cancer fundraiser.
A two-day vigil began yesterday (Thursday), with a private funeral set to take place later today.
Yesterday, Stephen's hearse arrived at the cathedral, drawn by four white horses.
The teen, from Burntwood in Staffordshire, had originally launched his fundraising appeal with a goal of £10,000 for the Teenage Cancer Trust.
The total on Stephen's justgiving.com page has now exceeded £4m.
Stephen, 19, who was suffering from terminal cancer, died on May 14 after inspiring millions across the world with his story.
Friends and well-wishers were invited to Lichfield Cathedral to pay their respects to the teenager whose courage inspired millions. Thousands have signed the book of condolence at the cathedral.
The Teenage Cancer Trust's chief executive Siobhan Dunn is sure that Stephen's memory will "never be forgotten" because it will live on through the work of the charity.
She said: "I think it's really important there's a public celebration of Stephen's life and I think that's exactly what he would have wanted."
Related Stories:
Stephen has lost cancer battle
Cancer fundraiser teen to have op