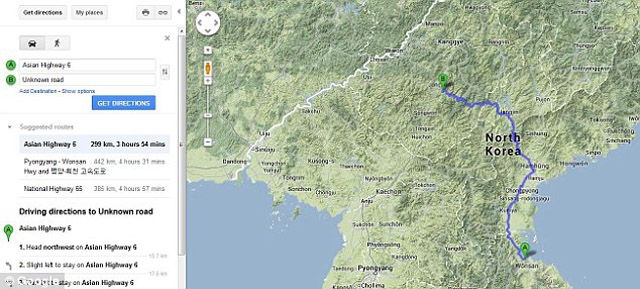 Google maps has added North Korea to its driving directions – even though the country has strict control over its internet and doesn't encourage visitors. North Korea is notoriously strict when it comes to a number of things including internet use in the country but internet giant has managed to make the updates by bypassing some restrictions.
The company used data supplied by users of its Maps service to help it plot roads, underground systems and parks in the eastern region of the secretive country.
Google then built on this data to add sat-nav across the country. Typing in Beijing or Seoul as destinations produces a message that warns that Google is unable to calculate directions. The error reveals that there are still a few glitches with the system.
Further, Google maps for the area don't show timetable information for transport – something that users of the application have come to expect.  
However, it has yet to be seen how useful the mapping updates will be in the country, where leader Kim Jong-un imposes strict controls on internet use – and how many people can buy cars.
It has been reported previously that the region has just 5,500 websites and emails. Along with this, text messages are closely monitored in the country.
Google said back in 2012 that they intended to start adding mapping information for areas that are mostly blank – with North Korea being the prime candidate.
To help build the map, Google used a community of citizen cartographers to add road names and points of interest to the Google Map Maker tool
Building on this map data, Google now plots driving directions across the country – but this is only possible where roads have been mapped.