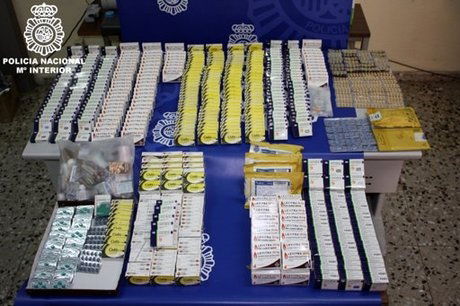 Authorities in Spain have seized over 400,000 fake pills during a search of 136 packages found in airmail and luggage in Spanish airports, police revealed in a statement. Yesterday (Tuesday) police confirmed that they have detained 13 people suspected of selling large quantities of fake medication, including erectile dysfunction drugs and antibiotics.
The fake medication was made in Asia and purchased over the Internet.
The bogus medication included contraceptives, weight loss pills, vitamins, steroids, pain killers and Viagra.
The vast majority of the tablets were made in China and India, but police also seized counterfeit medication from countries including Malaysia, Colombia, Paraguay and America.
No estimate has been given as to the value of the counterfeit medication.
In a statement police said: "The main goal of the operation is to raise public awareness of the risks that buying medicine from irregular sources entails."
Spanish authorities provided international law enforcement agencies including Interpol with the internet addresses of 113 sites that illegally distribute medication.
The fake medication market – which is growing annually – is reportedly worth around €10.5 billion.