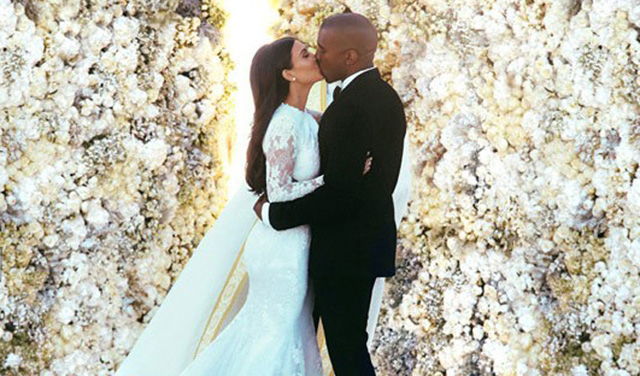 UPDATED: Rapper Kanye West and reality TV star Kim Kardashian tied the knot in Florence over the weekend.
The glitzy ceremony, thought to have cost around €12 million, took place at an Italian Renaissance palace fortress.
Kardashian, star of TV show 'Keeping up with the Kardashians', and the music star were joined for the private ceremony by family and friends.
Reportedly, the bride's sisters made up the bridal party and stepfather Bruce Jenner walked her down the aisle at Forte di Belvedere.
The celebrity couple are said to have pumped some €5m of their own money into the lavish event.
Florence's mayor's office confirmed on the lead-up to the wedding that the venue costs £250,000 to hire.
The rest of the sum is understood to have been covered by TV network E! which screens Kardashian's programme.
Guests at the fancy affair included British film director Steve McQueen (who recently won acclaim for Oscar-winning 12 Years a Slave).
Italian opera star Andrea Bocelli sang "Con te Partiró" at the ceremony, while US singer John Legend performed at the reception.
The event drew crowds of fans eager to catch a glimpse of the glitzy event, but they were kept at bay due to tight security around the heavily-walled 16th century fortress.
The couple enjoyed a pre-wedding break in Paris, where Kim and friends enjoyed an Eiffel Tower hen-party.
Last Thursday the wedding party enjoyed a brunch in the capital, hosted by fashion designer Valentino.
Then, on Friday evening, guests were invited to the Palace of Versailles for a private tour and performance by singer Lana del Rey, before being flown to Florence.
Kim wore a Kate Middleton style dress for the ceremony, complete with Victorian-style lace, full-length arms and a high neck. The star is said to have spent €4.6million on three dresses for her special wedding extravaganza.
She wore her hair down, with a fixed gauze veil trailing.
The menu, created by gourmet international chefs, was said to be €2,000-a-head. The fabulous food was washed down with €4,000 a bottle champagne.
The pair spent some €650,000 on flowers and €1million for a bespoke 100ft Vatican marble table, which was complete with the guests' names engraved and embossed in gold.
West, 36, proposed to Kim on her 33rd birthday in October. The couple have a daughter together, North, who was born in July 2013.