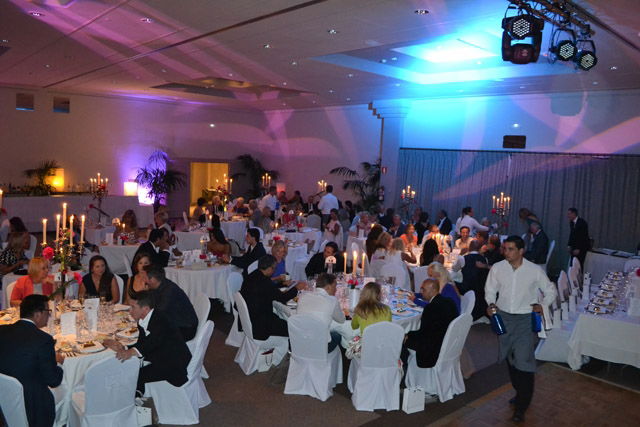 World Vision is the world's largest international children's charity helping millions of children in some of the world's hardest places who live in the shadow of hunger, disease, violence and exploitation.
Friday May 23 saw the World Vision Spring Gala and Musical at Puente Romano, an evening of fine dining, and good wine with spectacular entertainment from Alison Limerick the Nineties hit music star alongside local talent from D &Co, Pete Rothwell's tribute to Michael Bublé, and the Bluze Bruthers Band singing music of the Commitments and the Marbella Dress Company treated the audience to a mini fashion show – to raise funds for the charity.
The evening was a spectacular success with representatives from World Vision UK and Spain in attendance. Matthew Neville from the UK was stunned by the reception they received: "I loved the evening, it was just absolutely fantastic. Being in that environment at the Puente Romano as opposed to my recent visit to Bangladesh where I shared a room with 50 or so cockroaches and had a tap for a shower, the night was amazing. The staff was brilliant, the people we met were really lovely, the support was incredible.
We are so grateful for Puente Romano's owner Daniel Shamoon's support, he believes passionately in what we are doing and he is making a massive difference personally, we really appreciate his help. And of course, we couldn't have done it without the help and support of Euro Weekly News so thank you to everyone there too".
Jonathon Moulding, also from World Vision UK added: "It was a fantastic opportunity to meet people and tell them about the work we do, it gives them a chance to connect with what we do."
Incredibly the evening raised an extraordinary €60,000, which included a €40,000 donation from Daniel Shamoon, for World Vision, and €20,000 from raffles and private donations which will make a massive difference to the work that World Vision can do for children who are in their situation through no fault of their own.
For more information about World Vision, please visit their website at www.worldvision.org
Keep a note in your diary to keep Friday August 15 2014 free for the World Vision Summer Gala with special guests Boney M!
[iframe width="560″ height="315″ src="//www.youtube.com/embed/okcEI6dIXsc" frameborder="0″ allowfullscreen ]
Video: World Vision/YouTube.