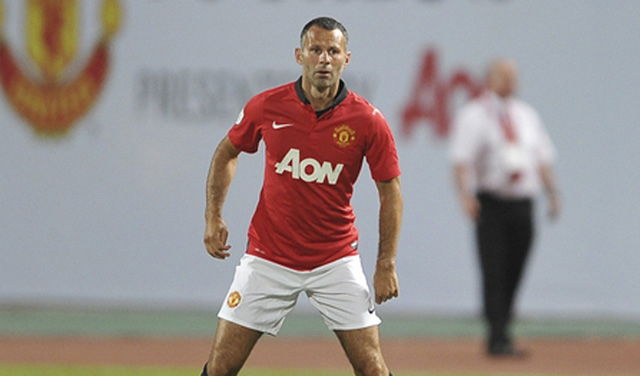 Manchester United legend Ryan Giggs has announced that he is retiring from playing.
However, Giggs will be staying on at Old Trafford, as expected, to be the club's Assistant Manager.
The club's new Dutch manager Louis van Gaal had hinted that he would keep Giggs, who has been interim manager following the dismissal of David Moyes, as his second.  
In an emotional letter to fans Giggs paid tribute to the supporters of "the biggest and best club in the world".
The player said: "Today is a fantastic day for Manchester United. Louis van Gaal is a great appointment and let me begin by telling you how delighted I am to be working with someone of his calibre.
"His credentials are second to none and I'm positive the club will thrive under his leadership over the coming years.
"I would also like to take this opportunity to announce my retirement from professional football and embark upon a new and exciting chapter in my life, as assistant manager of Manchester United."
MUFC are expected to make a comeback next season following an atrociously bad campaign with David Moyes at the helm.
They have also been given a reported 150 million transfer budget and it is anticipated that they will spend big to boost the club's chances of returning to the top of the league table.
Louis van Gaal has signed a three-year deal to take over once his Netherlands international team manager role ends this summer following the Brazil World Cup.
The Dutchman said:
"To work as a manager for Manchester United, the biggest club in the world, makes me very proud.
"I have managed in games at Old Trafford before and know what an incredible arena Old Trafford is and how passionate and knowledgeable the fans are.
"This club has big ambitions. I too have big ambitions. Together I'm sure we will make history."
Former Man United goalkeeper Peter Schmeichel has shown his support for the new manager.
Speaking exclusively to UK daily The Mirror, Schmeichel said:
"Van Gaal has coached at the very highest level for 20 years.
"He was at Barcelona, which was a madhouse at the time, and he's been to Bayern Munich and coached Holland. This is a hugely experienced guy.
"He doesn't suffer fools easily. Now more than ever, you need someone with experience and a defined direction. I think he has that."