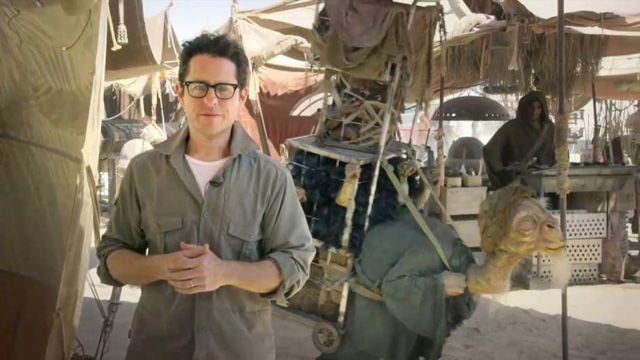 JJ Abrams, the director of the new Star Wars film, is offering fans the chance to appear in Episode VII.
In a video recorded from the film's set in Abu Dhabi, JJ Abrams announced a new Unicef charity campaign run by Disney, Lucasfilm and Bad Robot, the director's own production company.
Star Wars fans can donate $10 or more to Star Wars: Force for Change in exchange for a chance to win the once-in-a-lifetime experience.
The amazing prize includes flights to London and accommodation, a behind-the-scenes Pinewood Studios tour, meeting the cast and playing a character in a scene.
The Hollywood director said: "The Star Wars fans are some of the most passionate and committed folks around the globe.
"We're thrilled to offer a chance to come behind the scenes as our VIP guests and be in Star Wars: Episode VII.
"We're even more excited that by participating in this campaign, Star Wars fans will be helping children around the world through our collaboration with Unicef Innovation Labs and projects."
The competition closes on July 18 and there are a maximum of 10,000 entries per person.
The campaign is being run by Omaze. They have offered similar charity packages in the past. Just a few weeks ago they gave people the chance to ride in a tank with Arnold Schwarzenegger for the benefit of after-school programmes.
Hotly-anticipated Star Wars: Episode VII began filming on May 16, with the UAE's Abu Dhabi being the first location before the cast and crew head back to London.
The film is due for release in December 2015.
[iframe width="560″ height="315″ src="//www.youtube.com/embed/XfNiC9iKM0Q" frameborder="0″ allowfullscreen ]