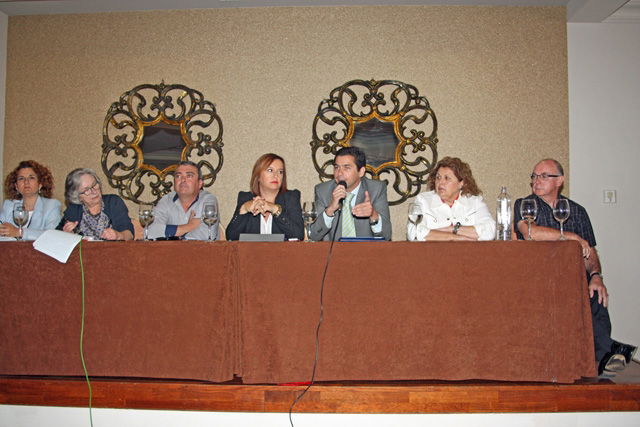 More than 200 people packed into a meeting where senior Junta de Andalucia politicians finally met worried householders whose homes have been declared illegal.
For the first time since the creation of SOHA (Save Our Homes Axarquia) senior members of the ruling PSOE socialist party came to the Axarquia to listen to the concerns of members of the association, many of them affected by housing irregularities.
Held at the Hotel Viñuela, the meeting featured Rafael Marquez, Director General of Territorial Planning and  Maria Nieves Masegosa, Secretary General of the Ministry for Environment and Territorial Planning at the Junta de Andalucia and Jose Juan Jimenez Lopez the Mayor of Viñuela.
The meeting began with a presentation by Mario Blanke and Mike Stevenson, both committee members of SOHA, who explained the social, legal and economic context of the meeting.  Mike brought to the meeting's attention the 1.5€ Billion contribution to the Andalucian economy made by foreign pensioners.  Mario presented SOHA's preferred solution to the problem which is a general re-categorization of all irregular houses as "fuera de ordenacion legal", outside the existing plans but, nevertheless, legal.  Many homes were declared illegal by the Junta despite them having licences granted by local town halls as they were built on land not zoned for homes.
During a tense meeting Señor Marquez stressed that this was a new beginning.
"We must tell the truth, this is something that in the past has not happened." He confirmed his commitment to keep the dialogue going in the future.
Señora Masegosa told the meeting that it was her "desire to see the problem face to face." She agreed with SOHA that the decree of 2012 had been a failure in Andalucia but added that "it's a positive beginning to a complex problem".
Philip Smalley, Chairman of SOHA, said afterwards: "It was very gracious of Señora Masegosa and Señor Marquez to come and talk to us.  The words of our guests suggested they felt that they were at the beginning of a long and difficult process which is strange as we have been fighting this fight for almost 10 years!  One of the problems we face is the merry go round of new faces at the Junta, each year or so someone new takes over the ministry and the dialogue begins again.  At least they have signalled to us that they are prepared to talk.  I hope they do."
Highlight of the day was the impassioned plea of local restaurateur Antonio Martin who declared that if it were not for the foreign residents of the Axarquia many businesses would fail and the towns would die.