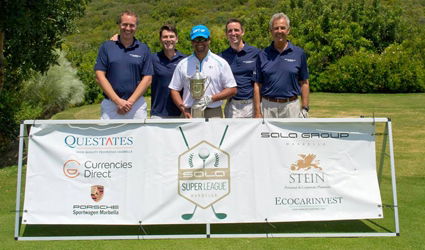 On 10th May, Sala Super League invited Michael Campbell to join their fourth match of 2014, played on Estepona's Valle Romano Golf course.
Winner of the 2005 US Open, 2005 HSBC World Match Play Championship and eight European Tour events, New Zealander Campbell began caddying for his father at a young age.
His Maori family was not wealthy and he's spoken of having to walk barefoot to school as "to get shoes was like Christmas".
As a Maori, 'Cambo' was an unusual sight on his local course, playing with a couple of adult clubs cut down to size, trying not to hit the sheep grazing on the rough.
He first played for New Zealand as an 18 year old, turning pro in 1993; in 2005 he became the second New Zealander ever to win a major, beating Tiger Woods at the Pinehurst US Open.
Cambo moved to Marbella in 2012 and has now launched his own golf academy at Villa Padierna (www.michaelcampbellgolfacademy.com).
At Saturday's event, Cambo challenged the Sala Super League players to Beat the Pro before posing for pictures alongside his impressive US Open trophy
The prize giving was held at La Sala by the Sea with Weapons of Grass Destruction winning the team event, and Gary Shuck from Team Pink taking the individual prize.
From 23rd May, La Sala by the Sea will open its restaurant at night. Savour La Sala's trademark cuisine fused with Thai flavours in beautiful starlit surroundings or visit any day from 9am to experience their fresh smoothies, frozen yogurt and iced coffees at one of three tropical bars.
Follow this by sampling the delicious gourmet lunch menu, then settle down with a cocktail to watch the sunset over the Mediterranean from a luxury lounge bed.
Day or night, La Sala by the Sea has something to offer even the most discerning clientele with special VIP service available on request. For reservations please email [email protected] or telephone 952 813 882.
As you only need to play in six events to qualify for the grand prize, there's still time to join the 2014 Sala Super League. The next tournament takes place on 14th June at Finca Cortesin and will be followed by a prize giving with complimentary canapés and drinks at La Sala by the Sea. Prizes include dinner for four at La Sala, champagne and Callaway merchandise.
To sign up your team and help raise money for DEBRA, a local charity caring for individuals and families affected by Epidermolysis Bullosa, contact Sala Super League Manager, Lindsey Medina on [email protected] or visit www.salagroupgolf.com