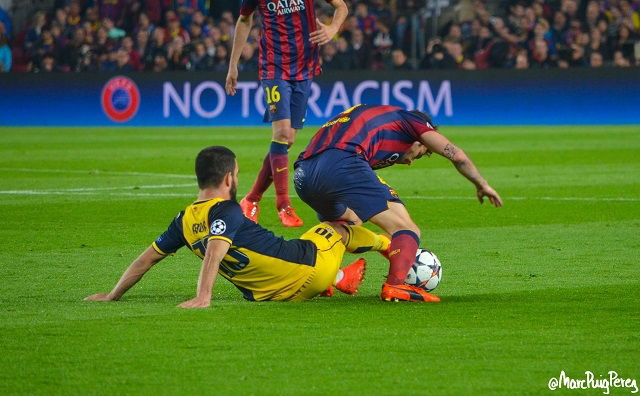 Atletico Madrid have done it – they have beaten off the most powerful duopoly in football to win Spain's La Liga.
And they did it in the lion's den, with a hard fought 1-1 draw in Barcelona's packed Nou Camp stadium enough to secure them the coveted title.
They had to fight back from behind after Barcelona's Alexis Sanchez hit a wonder goal in the 33rd minute. To the right of the box at a difficult angle he smashed an unstoppable shot past Thibault Courtois – on loan from Chelsea – and send the Barcelona fans into a frenzy of anticipation for a league title that had seemed unlikely a few weeks ago.
But Atletico Madrid's players are made of stern stuff and they refused to yield, keeping up an incredible pace. They knew this was their chance for sporting immortality by taking the trophy away from the big two of Real Madrid and Barcelona and they were not going to let it slip.
They started to push back Barcelona and by half time it was the Catalan giants who looked like they wanted the break more.
Atletico came on for the second half at a furious pace and almost scored when David Villa hit the post on a turning volley. Villa nearly scored again before the Atletico pressure finally paid off in the 49th minute when Uruguan defender Diego Godin rose above the Barcelona defence to plant an emphatic header into the back of the net from a Koke corner.
Atletico continued to dominate, but then the frantic pace began to tell and Barcelona started to take control.
Messi began to get into the game as Barcelona were roared on by their incredible support willing them to get the goal that would clinch the title.
But there was no way through an Atletico side that never stopped believing in themselves and finally clinched the vital point for their first league title since 1996, their 10th overall.