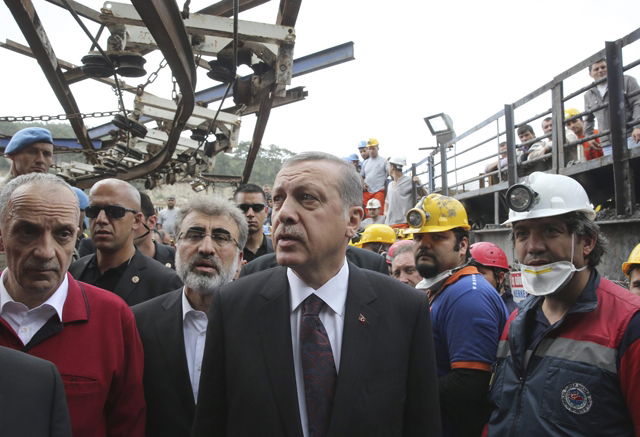 Turkey's MP, Tayyip Erdogan, has come under attack over the country's recent mining disaster.  
Erdogan defended his country's mining safety record as at least 282 workers were confirmed dead in an underground explosion.
The PM triggered countrywide outrage as he shrugged off the disaster, saying that such incidents "happen all the time".
Erdogan said: "These types of things in mines happen all the time.
"It's in its nature. It's not possible for there to be no accidents in mines. Of course we were deeply pained by the extent here."
Erdogan's car was attacked by protesters when he visited the site of the tragedy in Soma. Protesters called for his resignation and labelled him a 'murderer'.
Miners in the country are striking in protest over the disaster and the PM's blasé attitude has contributed to mounting fury over poor industry standards when it comes to safety.
Violent clashes with police using water cannons have been taking place in Ankara and Istanbul following the government response after the miners became trapped after an explosion on Tuesday.
The Turkish government said that 787 people were inside the coal mine at the time of the explosion, and 363 have been rescued, with many of those injured.
Emergency workers are currently fighting fire and toxic fumes as they search for survivors. Reportedly, around 150 miners still trapped.
Hope is fading though, with the last miner to be rescued alive emerging from the mine in the early hours of Wednesday morning.
The tragedy and subsequent backlash over comments made by the PM could hurt the leader's chances of re-election in August after the ruling party's 11 years in power.