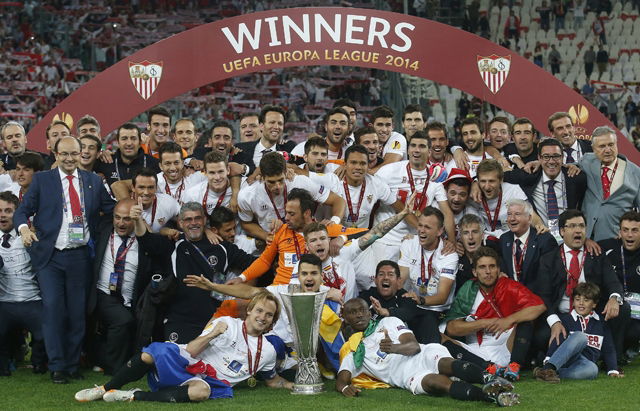 Spain have claimed yet another international title, with Sevilla defeating Portugal's Benfica last night (Wednesday) in Turin to win UEFA's Europa League title.
Sevilla secured the win, their third triumph in nine seasons of the competition, at Juventus Stadium after the game went to a penalty shoot-out.
Lisbon side Benfica, who had lost their last seven European finals, were seeking a first continental trophy since 1962.
And the Portuguese side gave it their all at the final to end their losing streak – but it was just not meant to be.
Both teams demonstrated moments of excellence – but neither made the final push necessary to score. Sevilla started the game looking like the more dominant team but it wasn't long before Benfica showed themselves to be the technically better team.
Sevilla goalkeeper Beto worked hard to ensure that Benfica – who were very dangerous at times – could not get ahead in the game. Players like Rodrigo and Lima would have scored easily against lesser goalkeepers.
Sevilla players lacked creativity at times and there were a few missed opportunities.
Benfica ended the first half, which was largely uneventful, looking strong and determined. They looked even stronger due to Sevilla's, at times, easily-broken defence.  
Benfica looked set to claim the crown in the second half, but there was a frustration and growing fatigue on both sides that could not be overcome.
In the last few minutes there was a frantic scramble, particularly from Benfica, to prevent the game from going to extra time. But it was in vain, with Benfica looking like their destiny was out of their hands and Sevilla players looking too exhausted to take chances.
After an exhausting 120 minutes yielded a 0-0 stalemate the game resorted to penalties.
Sevilla triumphed 4-2 when the game when to penalties, with Benfica attempts from Oscar Cardozo and Rodrigo being stopped in their tracks by Sevilla keeper Beto.   
After on-target shots from Carlos Bacca, Stephane Mbia and Coke, Sevilla's Kevin Gameiro scored the decisive penalty.
Benfica manager, Jorge Jesus, said:
"We were better but in football, the best team doesn't always win. We had more chances over 120 minutes but we didn't take them."
Sevilla manager Unai Emery said:
"At times the game was totally even, but by the end they were doing most of the pushing.
"You could tell our players were suffering from fatigue and physical discomfort but this team has learned how to suffer.
"We know how to suffer and that's why we won."
The game had echoes of the 2007 match when Sevilla won the competition against Espanyol on a penalty shootout.
Next month Spain will defend its World Cup crown in Brazil. The team is already hotly-tipped to win the international competition.