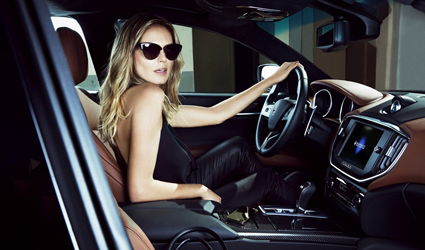 MASERATI, continued to celebrate its 100 years of history with a seven page pictorial featuring supermodel Heidi Klum called 'Beyond the Swimsuit' in the introduction iconic American magazine Sports Illustrated Swimsuit 50th Anniversary Issue.
"We started our next 100 years of craftsmanship by kicking off 2014 with the launch of one of the best received Super Bowl commercials "Strike" featuring the all new Maserati Ghibli, and extending the brand to another massive cultural icon, Sports Illustrated Swimsuit 50th Anniversary issue," said Harald Wester, CEO of Maserat.
"I had a great time driving the new Maseratis for their new campaign shot by Francesco Carrozzini," said Heidi Klum.
Shot by Italian Master Photographer, Francesco Carrozzini, the seven-pages pictorial piece "Beyond the Swimsuit" broughts together 'day in the life' scenes that befit one of the world's most famous women, Heidi Klum, the Hollywood star with the glamorous Quattroporte Ermenegildo Zegna Limited Edition, the business woman with the Ghibli S Q4, and the thrill-seeker with the GranTurismo MC Trofeo Race Car.
This is also a nod to a brand with proven tradition and one of the highest standards of quality in the industry, who has been hard at work engineering automobiles that will usher them into the next 100 years of innovation—automobiles with their own power and personality that are capable of striking against the status quo.