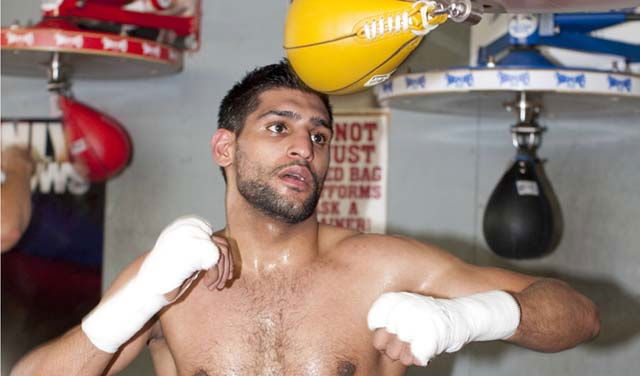 UK boxer Amir Khan is confident that he will soon show the world how much he has improved in his year out of the ring.
Khan, 27, is set to go head-to-head with Luis Collazo in Las Vegas on May 3.  
The Bolton fighter had hoped to take on Floyd Mayweather but the American opted to fight Argentinian contender Marcos Maidana.  
Khan, the former unified light-welterweight world champion, has suffered a series of setbacks.
He has endured a frustrating 12 months that saw him pass up the opportunity to take on Devon Alexander for the IBF welterweight title in December.
But Khan feels that he has come back stronger and has the ability to win.  
Khan said: "It was a difficult time. But the fact is I moved on fairly quickly when I knew the Mayweather shot wasn't happening.  
"It was just about refocusing my mind on the next opponent and luckily we were able to announce Luis Collazo straight away which allowed me the chance to get back in the ring as soon as possible.  
"I wanted a tough challenge at welterweight and not just to go in there against some average guy. Collazo is a legitimate welterweight who is very confident after his win against Victor Ortiz but I know I have the tools to beat him."
Khan last entered the ring last April in Sheffield when he defeated Julio Diaz.  
Over the last year Khan has been working with highly-rated American trainer Virgil Hunter in San Francisco.
And he thinks that his training is going to pay off, with the work giving him the edge to beat Collazo as he steps up to welterweight.  
On Monday the fighter was pictured wearing a 'No Pain No Gain' T-shirt in Las Vegas, preparing for his upcoming fight and sending out a message.
Khan said: "You're going to see an improved Amir Khan, the best Amir Khan, there's no doubt in my mind about that.  
"Over the last 12 months I've been in camps with Virgil and we've been working on certain aspects of my game that I never really got the chance to work on because I just didn't get the time as I was fighting so often.  
"Through the last few months I've been focusing on improving myself and adding certain things to my game. Because I didn't have an opponent lined up and I wasn't fighting I had the time to look at myself and work on things I wanted to work on.  
"On May 3rd I'm going to put that all into practice on the biggest stage and not only beat Collazo but look to beat him in real style."
Khan's opponent Collazo, has spoken in public about the upcoming fight that could make or break his career.  
Collazo, 33, said: "This fight is my whole career right in front of me. I believe if I beat Amir Khan I have a bigger future in boxing and if I don't, I have to start from the bottom again.  
"I am not looking beyond Amir Khan. He is my main focus. From here whatever happens happens, but Amir Khan is all I'm thinking about right now.  
"A win over Khan does put me in the Mayweather sweepstakes, but my sights are set on Khan."