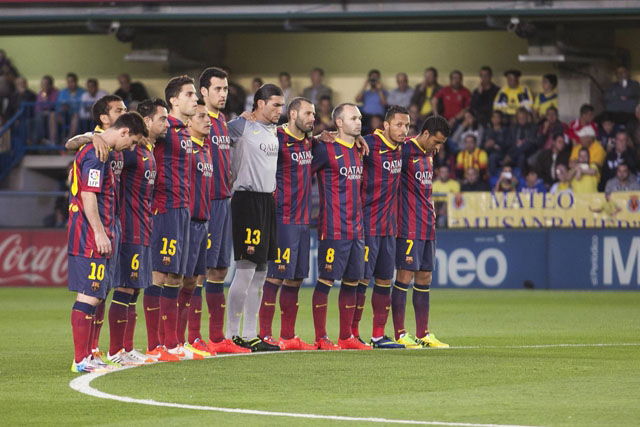 Barcelona beat Villarreal 3-2 yesterday (Sunday) at El Madrigal.  
It was not a spectacular performance from Barcelona – but it was enough to clinch a win that was much needed by the team and fans alike.
There was a moment of silence for former Barcelona manager Tito Vilanova, who died at the age of 45 last week following a battle with cancer.
Barcelona players were subdued and obviously struggling following last week's loss of Vilanova, who coached the team to a La Liga victory last season with a record points margin.
Despite having a strong team last night, with players including Messi, Andres Iniesta, Xavi, Dani Alves and Marc Bartra, Barcelona just couldn't pull it together.
Villarreal managed to get ahead on goals, with Cani getting a shot in at 46 minutes and Trigueros clinching them a lead at the 55th minute, making it look bleak for Barca.
Barcelona keeper Pinto just couldn't stop the onslaught, with Villarreal giving Barca a real run for their money until the tide turned.
The host team worked hard, desperate to salvage the chance to play across Europe next season.
They outplayed usually formidable Barcelona for stretches at a time, and were definitely deserving of their half-time advantage.
Things went awry for Villarreal though, when in the 65th minute Barcelona's Dani Alves had his ricocheting shot redirected into the net by Villarreal's Gabriel Paulista.
The own goal left Villarreal keeper Sergio Asenjo, who had thwarted all Barcelona attempts successfully until then, looking heartbroken.   
And in the 78th minute Villarreal's luck took another turn for the worse, with Mateo Musacchio heading the ball powerfully into his own goal as he was attempting to intercept another Alves attempt.   
Messi, assisted by Cesc Fabregas, scored his 27th La Liga goal of the season (in 28 matches), making it 3-2 in the 82nd minute.
The Argentine dedicated his goal to Tito Vilanova, who coached him as a teenager, after an emotionally-exhausting week following the sad news.
The second half was soured somewhat when a spectator threw a banana at Brazilian player Dani Alves.
However, Alves was a true professional. The player rose above the controversy, showing his appreciation for the energy boost as he ate the piece of fruit.
After the match Alves told journalists: "I don't know who it was, but thanks to whoever threw the banana, the potassium gave me the energy for the two crosses which led to a goal."
Alves has been targeted by racist supporters in the past, and said:"I've been living in Spain for 11 years, and for 11 years I've been laughing at these morons."
The season's final match between Atletico Madrid and Barcelona is set to take place in a few weeks and will carry significant weight for the top three La Liga clubs.
With both Madrid clubs still competing in the UEFA Champions League, Barca fans will be pleased to know that they still have a shot at La Liga.
FC Barcelona's manager, Tata Martino, is said to be on his way out at the close of the season following a disappointing campaign that has seen Copa del Rey and Champions League defeats.