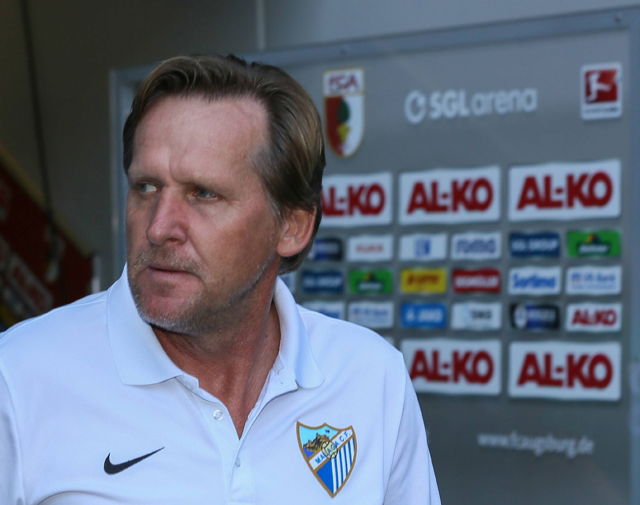 Malaga CF enjoyed a dominant 2-0 win at home last night (Monday) over Villarreal, taking a big step toward ensuring their spot in Spain's top group next season.
The win was also a plus point for manager Bernd Schuster as, reportedly, if the team don't finish in the top 10 Schuster can be sacked sack due to a clause in his contract.
Allegedly, the German manager's contract has a clause that he can be fired if Malaga finish in 11th place or lower.
The win at Rosaleda Stadium means that Malaga moves mid-table in Spain.
Malaga's strong defence limited Villarreal, ensuring that their opponents couldn't get a foot-hold on the game.
Even when Malaga was forced to play with 10 men for the final 15 minutes of the game, when Nordin Amrabat was shown a direct red card by the referee, they still managed to remain the stronger team.
Roque Santa Cruz kicked the ball over goalkeeper Sergio Asenjo from a tight angle to open the scoring in the sixth minute.
In the 53rd minute Amrabat scored the second goal, securing his team's win.
Following the victory Schuster said: "Perhaps this was our most well-rounded game of the season.
"We played well from the first to the last minute. We weren't much better than Villarreal, but we controlled them throughout."
"It has been a difficult year for everyone, and with these three points we can breathe easier. This was a key day. We have lifted a weight off us. Now, with less pressure, we can improve."
Following a bit of an uphill struggle during Schuster's first season in charge, Malaga is beginning to get a taste for winning, being victorious in five of their last eight games.
They've avoided being near the stragglers at the bottom of the table and climb into 10th place with four more rounds to go.
Villarreal's loss means that the team is in seventh place, seven points ahead of Valencia.
Atletico Madrid are in the lead, being four points ahead of Catalan team Barcelona. Real Madrid follows two points behind.