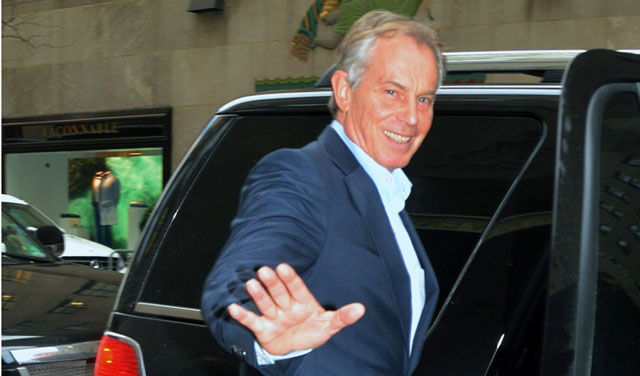 Tony and Cherie Blair have been spotted together in public for the first time in months.
The pair are currently on holiday in Marbella, on Spain's Costa del Sol. They looked relaxed in each other's company as they enjoyed the Mediterranean sunshine.
The holiday comes after a stressful period in their marriage following allegations of an affair between Blair, 60, and Wendi, Deng, 45, the former wife of media tycoon Rupert Murdoch.
Mr Murdoch has recently spoken out publicly over the allegations, saying that he divorced wife Wendi because of claims she was close to the former Prime Minister. 
In February it was revealed that Murdoch's wife had written in her diary about Tony Blair, praising his 'good body' and his 'butt'.
In a list of reasons why she was 'so missing Tony', Ms Deng gushed in poor English about Blair's 'pierce blue eyes. Love his eyes. Also I love his power on the stage'.
Last month, Murdoch said that he went straight to a divorce lawyer following claims that Blair and Miss Deng met up while he was away from his ranch in Carmel, California.
Although there is no firm evidence that Miss Deng and Blair had an affair, Murdoch, 83, said that the allegations of secret trysts played a major role in his decision to end his 14-year marriage to Wendi. 
Blair, who has been married to Cherie, 59, since 1980, has denied any affair with Ms Deng.
The Blairs had not been photographed together since Nelson Mandela's Memorial Service in Johannesburg, South Africa, in December.
Blair, who is godfather to one of Murdoch's daughters, has denied any affair but has not spoken publicly about the claims. His friendship with media mogul Murdoch has crumbled since the claims.