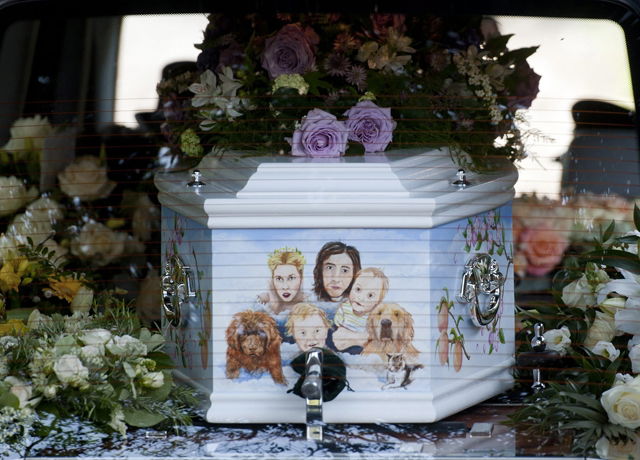 Following her death two weeks ago, celebrities in their droves have attended the funeral of Peaches Geldof, daughter of Sir Bob Geldof.
Among those present at the service today (Monday) were model Kate Moss, musician and TV star Jools Holland, former Rolling Stones bassist Bill Wyman, actress Jaime Winstone, the Duchess of York and Radio 1 DJ Nick Grimshaw.
Peaches, 25, was found dead at her Wrotham, Kent, home in "unexplained" circumstances on April 7.
The writer and broadcaster leaves behind a husband, Tom Cohen, and their two children, Astala, 2, and Phaedra, 11 months.
The private service took place earlier today at the same Kent church where the funeral of Peaches' mother, Paula Yates, was held.
Her father, Live Aid activist and former Boomtown Rats singer, Bob Geldof, was expected to lead the tributes to his daughter at the St Mary Magdalene and St Lawrence Church in Davington, near Faversham.
It is also the church where Ms Geldof married musician Tom Cohen, the father of her two children, in 2012 and where her mother married Bob Geldof in 1986.
Following his daughter's death, Sir Bob paid tribute to her, saying that she had been the: "wildest, funniest, cleverest, wittiest and the most bonkers of all of us".
Paula Yates, died from a heroin overdose at the age of 41 in 2000 when Peaches was just 11 years old.
Kent Police have said that her death is being treated as "non-suspicious" and "unexplained".