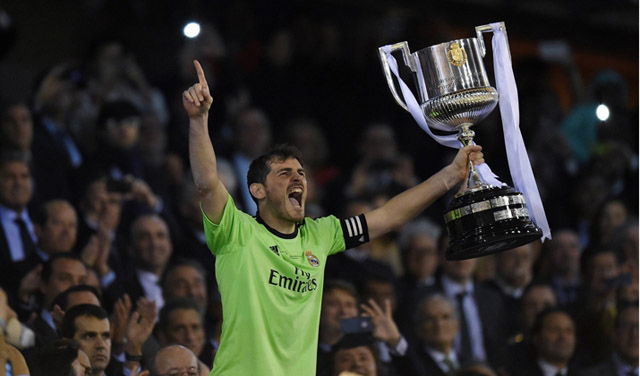 Last night (Wednesday) at Valencia's Mestalla Stadium the atmosphere was immense, with the Copa del Rey final taking place between Spanish legends Real Madrid and FC Barcelona.  
The game was all important for football fans across the country and beyond – as well as being highly political, due to recent tensions between Madrid and Cataloñia over the question of the latter's independence from Spain.
Just 10 minutes in and Real Madrid scored, with Angel di María's goal putting his team a league ahead of the opposition.
Barca started to fight back at 15 minutes in but couldn't seem to cause any damage to their rivals, who maintained a strong defence and were determined to keep Barca at bay.
Lionel Messi, who had looked like he was going to be physically sick at the game's opening, seemed, at times, to be totally detached from the game, barely making an effort until 35 minutes into the game.
Brazilian team-mate Neymar was in the thick of things though, getting into an altercation with Real's Pepe and Coentrao which landed him with a yellow card.
Cesc Fabregas was also very involved, defending well and preventing Real Madrid from getting a stronger hold over the game.
FC Barcelona maintained a strong 63%-37% possession over their opponents, but failed to make much of an impact on the scoring front, with Real Madrid's Iker Casillas not stretched at all.
That was the case until the 67th minute, when Barca one-to-watch Marc Bartra took a corner that found the net, leaving Casillas looking visibly shocked.
Without Real Madrid star Cristiano Ronaldo, who was on the bench due to a recent knee injury, Gareth Bale had a lot of responsibility on his shoulders. Bale tried time and time again to score but missed a few golden opportunities.
But the Welshman, the world's priciest player, didn't let his team down, scoring the most important goal of his career to date at the 85th minute. He scored the decisive goal to win the Copa del Rey – and it won't be forgotten.
Barca up-and-coming star Bartra tried his hardest to stop Bale – but to no avail. He couldn't get there in time to help keeper Pinto stop the disaster.  
Neymar almost sent the game into extra time in the final minute, but his shot hit the post, signalling the end of Barca's Copa del Rey dreams.
It was Real Madrid's 19th Copa del Rey, and their first trophy under Carlo Ancelotti. Keeper Iker Casillas grabbed Spain's King Juan Carlos in a bear-hug and held up the trophy triumphantly to the crowds.
Real Madrid players were jubilant, while the Barcelona team looked genuinely heartbroken and left the pitch understandably downcast.
Barcelona have endured a nightmare week, crashing out of the Champions League to Atletico Madrid and suffering a shock 1-0 La Liga defeat to lowly Granada.
The Catalan club's recent failures are piling the pressure on Gerardo Martino, who is in his first season in charge at Camp Nou, prompting suggestions that the current team is in need of a radical overhaul before next season.
Carlo Ancelotti's Real side have a real chance of becoming only the second team after Barcelona (2009) to win a treble of La Liga, Champions League and the Copa del Rey titles in one season.