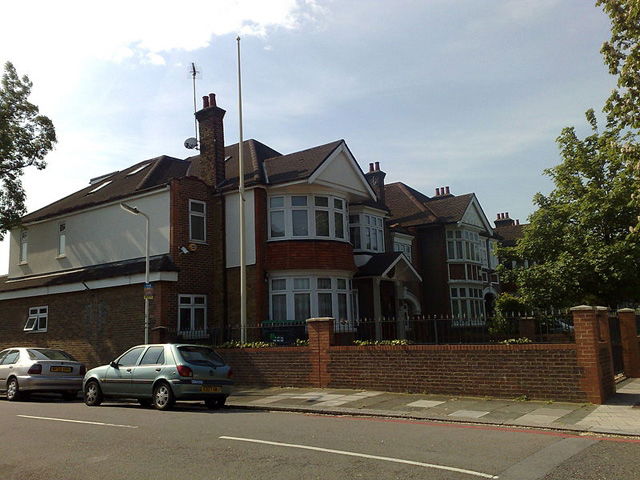 North Korean officials are unhappy with a London hairdresser after they used a photo of Kim Jong-un to advertise a 'bad hair' discount.
The M&M Hair Academy salon in South Ealing was visited by North Korean agents who wanted the poster removed because it was 'disrespectful' to their Supreme Leader.
Shop owner Mo Nabbach was hoping that his humorous poster would increase sales, but instead it attracted attention from North Korea officials from the state's nearby embassy in Gunnersbury, west London.
The poster in question featured a picture of Kim Jong-un's distinctive haircut. Below the image it said: 'Bad hair day? 15% off all gent cuts through the month of April'.
Shortly after putting the image up North Korean officials, whose embassy is just two miles away in a converted semi-detached building in Gunnersbury, arrived at the shop to protest.
The men took photographs of the west London shop and its poster, and also took notes.
Mr Nabbach told London's Evening Standard that the men returned to tell him the poster was 'disrespectful' to their country's 'Supreme Leader' and must be removed.
Mr Nabbach said: "I told them this is England and not North Korea and told them to get their lawyers.
"We did take it down but then some of our clients told me to put it back up because we have democracy here.
"The two guys were wearing suits and they were very serious. It was very threatening."
Mr Nabbach went to his local police station "in case something happened to the salon" and Scotland Yard revealed that the North Koreans did the same.
A Metropolitan Police spokesperson said: "We have spoken to all parties involved and no offence has been disclosed."
While many, including M&M Hair Academy, consider Kim Jong-un's hair 'bad', the North Korean leader is currently imposing this haircut on all male students in North Korea.
Just last month the North Korean government announced that the only haircut allowed would be the 'Dear Leader' style favoured by Kim Jong-Un.