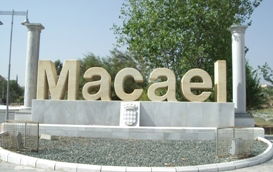 The ambassador of Taiwan, Javier Ching-shan Hou, has visited Macael.
The motive for this visit was the interest he had expressed in seeing the village and its international marble industry, headed up by Cosentino – a local company that sells its marble all over the world.
The visit began in the quarry and ended in the town hall where the mayor, Raul Martinez, explained the process of marble extraction and the business opportunities that this presented to the village.
After a walk around to see where and how the marble is used in the streets, the ambassador visited the Cosentino plant where he was able to see, first-hand, how Silestone, Deckton and different coloured marbles were prepared for sale.
Marble is considered a great luxury in Taiwan.