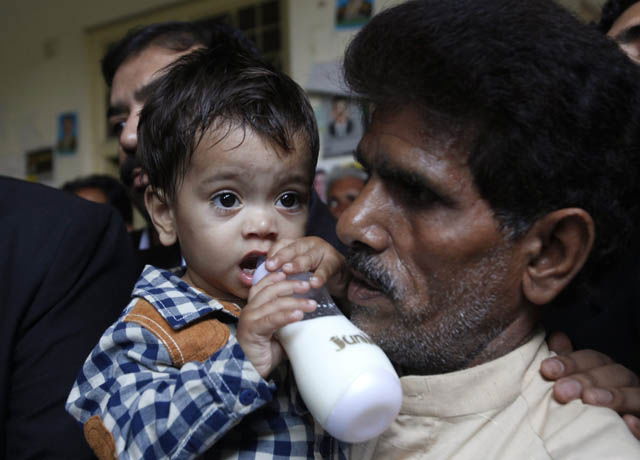 Attempted murder charges against a baby in Pakistan have been dropped.
The allegations against the nine-month-old were withdrawn after a massive public outcry.
Photographs taken at an earlier court hearing of Musa Khan screaming as he was being fingerprinted provoked a storm of public outcry and prompted calls for an inquiry into the case.
People around the world claimed the case exposed the "incompetence" of the police force, leading to authorities admitting "human error" in the case.
The attempted murder charge, which has been thrown out by a judge, followed allegations that the little boy had thrown rocks at gas workers.
In Pakistan the minimum age of criminal responsibility is 12, except for in cases of terrorism, so the charges against Musa were in contradiction of the country's laws.
Musa Khan appeared at a Lahore court, sitting on his grandfather's lap and drinking from a bottle of milk.
Pakistan police had accused the baby, along with other members of his family, of attacking officers, bailiffs, and gas company staff when they arrived to disconnect the supplies of households who had failed to pay their bills.
The boy's grandfather, Muhammad Yassen, said: "He does not even know how to pick up his milk bottle properly. How can he stone the police?"
At the hearing, defence lawyer Irfan Sadiq said: "Police told the court that the nomination of Musa in the case of attacking police and gas company officials was a human error and Musa is not required."
The child's grandfather and his three sons are still charged with for the alleged offences.