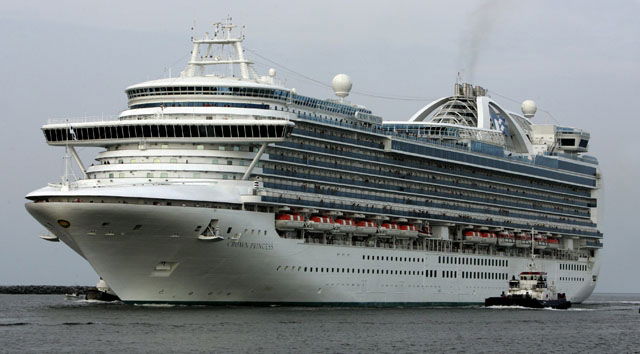 A cruise ship sailing to Californian ports has been struck by Norovirus, with 83 people confined to their rooms.
The ship has been halted in San Francisco in order for it to be disinfected in an attempt to contain the unpleasant gastro-intestinal virus which is spread from person-to-person and includes symptoms like nausea and diarrhoea. 
The virus spreads rapidly in contained areas with high people density and cruise ships have been hit hard by it in the past.
This past January the CDC reported that there were over 600 cases of the virus on Caribbean cruise ships.
The number of passengers aboard the Crown Princess ship who have contracted the highly contagious virus has doubled, with confirmation on Wednesday that 66 holiday-makers and 17 crew members are ill and have been isolated to their cabins.
The news follows Monday's count of 37 passengers who had been hit by the virus.
The Crown Princess is currently on a seven-day cruise that was set to include stops in San Diego and Santa Barbara.
The cruise was scheduled to end on Saturday in Los Angeles but has been stopped in San Francisco to address the outbreak.