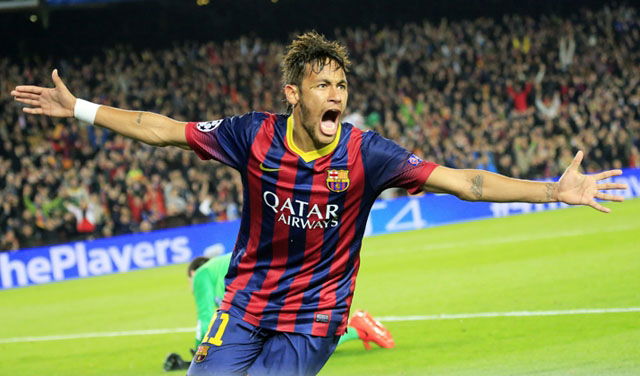 Atlético opened the UEFA Champions League match at Barcelona's Camp Nou looking like strong contenders, with David Villa nearly scoring at 4.20 minutes into the game, and causing Spanish commentators to exclaim "they've surprised us!"
This created some insecurity and Barca had to make a concentrated effort to fight back. From the off, both teams were anxious to get the game going with a goal.
At just 8 minutes into the game Atlético's Diego Costa clashed with Barcelona's Pique, causing the Barcelona player to fall hard. Pique was substituted for Marc Bartra, a young player who showed confidence and looks set for great things.
The first yellow card of many came at 18 minutes when Neymar was fouled by Koke. The Brazilian player was very active throughout the game, no easy feat given that he seemed to be a prime target for Atlético fouling.
At 28 minutes in, the second substitution came, with Atlético star player Diego Costa pulling a muscle and being swapped for Diego Ribas.
Atlético Madrid were given one yellow card after another for fouling the much less pushy Barcelona players. They were persistent offenders, with cards going to Koke, Gabi, Juanfran, Diego, Sosa and Turan.
Atlético goalkeeper Thibaut Courtois was the star of the team, saving attempt after attempt by Barca stars Messi, Neymar and Iniesta. Messi, in particular, sets alarm bells for any keeper, but the young world-class Courtois kept his cool.
Atlético's Diego Ribas scored early in the second half (56th minute), the goal spurring their La Liga opponents on to equalise.  
In the second half the Catalan team showed a steely determination to score. And at 71 minutes into the game they got their wish, with Neymar finding – and taking – a brilliant shot after a bit of help from Iniesta.
Barcelona had a few good runs throughout the game, demonstrating real skill and control.
The Catalan team were the strongest throughout, their streaks of pure talent only interrupted by the continual fouling.
They had more goal attempts (19-6) and more possession than Atlético (71% to 29%), who were only saved by Ribas' shot and good defence.