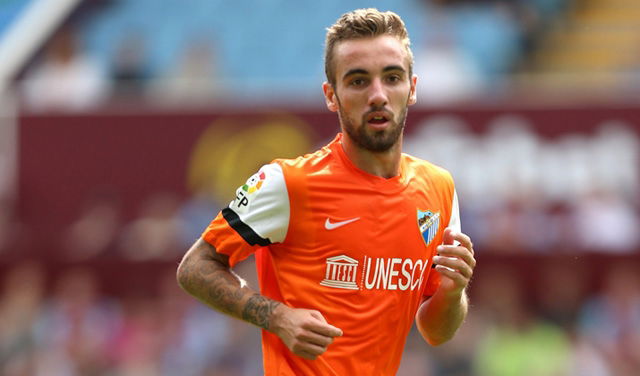 Malaga CF dashed the hopes of Real Betis last night (Monday) in the Spanish Primera Division match at Seville's Estadio Benito Villamarín.
The winners scored two late goals, while Betis player Ruben Castro missed a last-minute penalty much to the dismay of his team.
It was their chance to stay in the game and equalise but Castro's attempt hit the crossbar.
Struggling home side Real Betis are bottom of the rankings and seemed optimistic of a win – and some much needed points – last night.
Betis had dominated for much of the game but any illusions of victory were snatched after Malaga's Sergi Darder scored the winning goal late in the proceedings.
Malaga player Juanmi had scored an equaliser in the 83rd minute, just three minutes before Darder's 86th minute clincher.  
Following the shock defeat Real Betis manager Gabriel Calderón, who seemed lost for words, said: "Analysing the game, it's incredible to think we've lost, it's hard to explain. It was like a horror film.
"You have to take your chances though. They've had three and scored two of them, but that's football and there's not much else I can say. We deserved to extend our lead, but if you don't score, you leave yourself open to what has happened."
Calderón said of his team's rough patch: "It's a very tough defeat. We've been walking on the ledge now for a while. Time is against us more and more. It's remarkable we've lost this match after having had so many chances, but we'll keep fighting against all adversities and try to remain a team worthy of this club and the fans."
Real Betis face Barcelona next, before a match against rivals Sevilla.