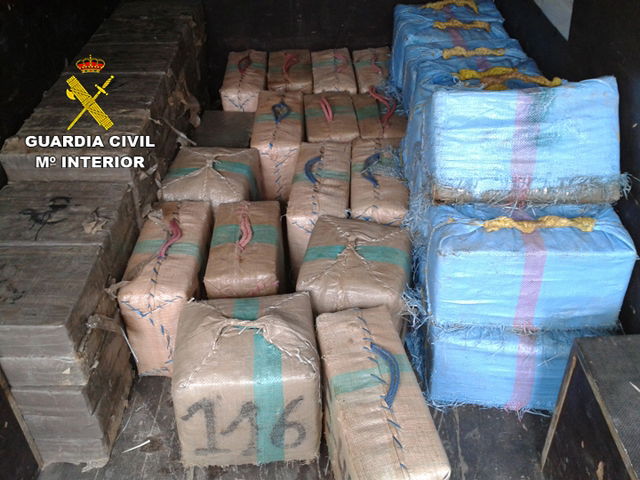 Twenty-six members of a network bringing hashish into Spain by sea were arrested after a dramatic cliff top operation that left one smuggler in hospital. 
The gang had a tanker lorry with a false bottom used to transport the hashish after it was smuggled to shore via a cliff with extremely difficult access.
They had created a system with pulleys to hoist the packages of drugs from boats to land.
Guardia Civil mountain teams and boats were required to recover the drugs.
During the operation, one of the smugglers fell down the cliffs at an undisclosed Axarquia location and was injured, as well as having symptoms of hypothermia.
A Guardia Civil officer went down after him, also sustaining several injuries, and kept him warm until other officers were able to lift them to safety. They were treated by paramedics before being transferred to Velez-Malaga Regional Hospital.
Almost 1,500 kilos of hashish, eight top range vehicles, luxury watches, computer equipment and other items were seized in searches of properties in Nerja, Torre del Mar, Alhaurin el Grande and Marbella.  
The investigation, which is still underway, resulted in the location of 10 properties in Spain and another abroad. More than €3 million in assets have been frozen.
The operation began in July last year and two of the detainees are members of the security forces who covered for the smugglers while drugs were being unloaded.
Guardia Civil report that the novelty of this operation was that the smugglers were Sub-Saharans who charged between €200 and €300 per shipment, compared to the €3,000 charged by Spanish or Moroccans.
Plus, they were willing to take more risks, such as unloading drugs on dangerous cliffs during bad weather.