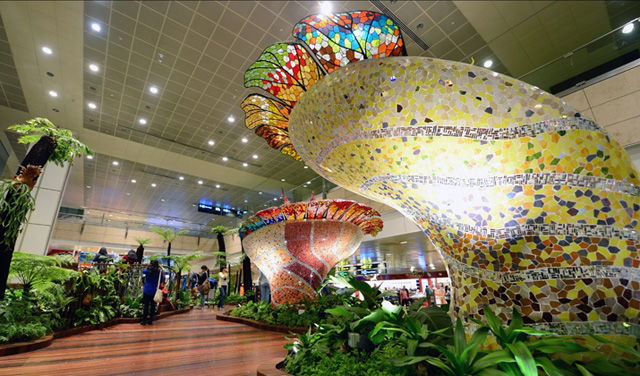 Singapore Changi Airport has won the title of 'world's best airport'. The airport, which comes complete with a butterfly garden and koi pond, has been named the best in the world in a prestigious survey.
Singapore's international airport, which also has orchid and sunflower gardens, secured the award for the second year running.
It was closely followed by South Korea's Incheon International Airport. Incheon, in South Korea, hosts regular cultural performances.
Passengers can visit the Korean Culture Museum which houses items including 5,000-year-old relics, or catch a film at the on-site cinema.
Germany's Munich Airport was awarded third place in the SkyTrax awards. The data was collected from 12 million passenger surveys.
CEO of Skytrax, Edward Plaisted, said: "Winning this prestigious award for the second year in a row, Changi Airport Singapore is showing itself to be much more than an airport
"Changi Airport demonstrates how to make the airport experience an enjoyable part of the journey that is so important in today's fast-moving world."
The UK's Heathrow Airport only just made it into tenth place in the 2014 World Airport Awards, but came in first place in the best airport terminals category.
Heathrow's Terminal 5, which offers free beauty treatments and two restaurants created by Michelin-starred chefs, secured the accolade for the third year in a row.
Heathrow's Commercial Director, Fidel Lopez, said: "We're delighted to be recognised so consistently for our range of shops and restaurants and for Terminal 5. 
"Terminal 5 has set a fantastic benchmark for us at Heathrow and we are looking forward to the opening of Terminal 2 in June. 
"I am confident our passengers will enjoy the Terminal 2 experience just as much those who travel through Terminal 5 today."