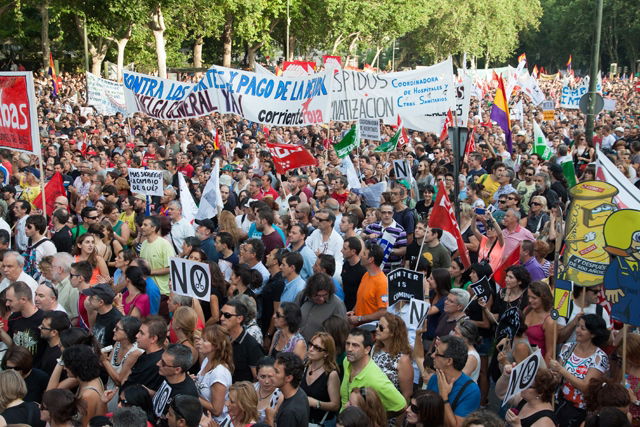 The latest protest about austerity cuts is set to hit Madrid today (Saturday).
Six columns of marchers from around Spain are converging on the capital. They are coming from Andalucia, Extremadura, Murcia and Valencia, Catalonia Aragon and Navarre, La Rioja, as well as Galicia, Asturias and Cantabria.
Many of the marchers are long term unemployed and they come from a broad spectrum of groups from trades unions to anti- eviction organisations.
Also present are groups calling for political reform.
Their main aim is to protest against budget cuts and austerity measures, largely made at the behest of the International Monetary Fund, European Central Bank and European Commission in order to avoid the need of a state bailout as received by Ireland, Greece and Portugal. Spanish banks did receive a bailout.
The marchers are calling for an end to cuts in public spending, particularly in education and the health service.
Despite billions of euros worth of cuts the Spanish budgetary deficit is still widening, the European Commission recently warned.
It said last month that unless more budget cuts are made, its deficit will reach 6.5% of gross domestic product in 2015.
Last year it stood at 7.2%, but may close to 5.8% this year.