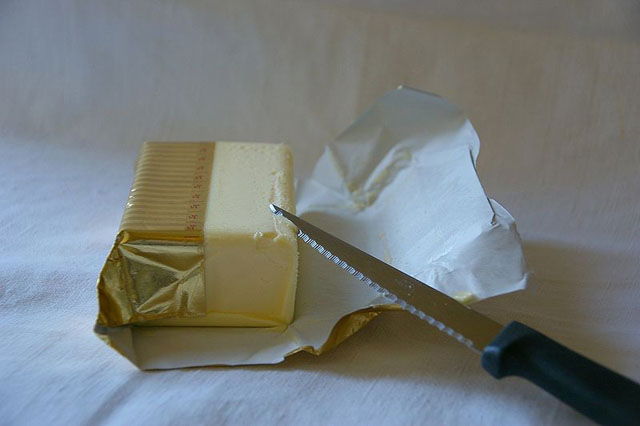 After years of being told about the dangers of saturated fat, such as that found in butter, scientists have revealed that they have found no direct link with heart problems.
A major new study says that guidelines urging people to avoid 'unhealthy' fat to stave off heart disease are wrong.
The results appear in the journal Annals of Internal Medicine. The results come from 72 studies involving 600,000 participants in 18 countries. 
This study comes after growing controversy over the relative importance of sugar and fat in the diet.
The 'mega' study analysed a huge amount of existing data and said that so-called healthy polyunsaturated fats, such as sunflower oil, had no general effect on the risk of heart disease.
On the other hand, a dairy fat called margaric acid 'significantly reduced' risk.
Two kinds of saturated fat found in palm oil and animal products had only a 'weak link' with heart disease.
Two types of omega-3 fatty acid found in oily fish – EPA and DHA – and the omega-6 fat arachidonic acid were linked to a lower risk of heart disease. But omega-3 and omega-6 supplements appeared to have no benefit.
Fat has long been blamed for obesity and heart disease, but some scientists now say there is evidence that fat may have been unfairly held responsible and sugar is really to blame.
Lead researcher Dr Rajiv Chowdhury, from Cambridge University, said: "These are interesting results that potentially stimulate new lines of scientific inquiry and encourage careful reappraisal of our current nutritional guidelines.
"Cardiovascular disease, in which the principal manifestation is coronary heart disease, remains the single leading cause of death and disability worldwide. In 2008, more than 17million people died from a cardiovascular cause globally.
"With so many affected, it is critical to have appropriate prevention guidelines which are informed by the best available scientific evidence.'
It was decades ago that advice began to emerge from scientific and medical bodies to cut back on saturated fats found in food like cream and butter.
But last year London cardiologist Dr Aseem Malhotra told the British Medical Journal it was time to bust the myth of the role of saturated fat in heart disease.
He said yesterday: "This huge and important study provides even more evidence that our focus purely on saturated fat as the number one dietary villain in causing heart disease has been misplaced when we should be focusing on food groups.
"Our over-consumption of processed food is what is driving much of the increasing burden of chronic disease currently plaguing the Western world.
"Poor diet is responsible for more disease than physical inactivity, alcohol and smoking combined.
"Furthermore, nutritional supplements have no proven benefit for the vast majority of people. It's better for the body to gain essential nutrients from just eating real food."