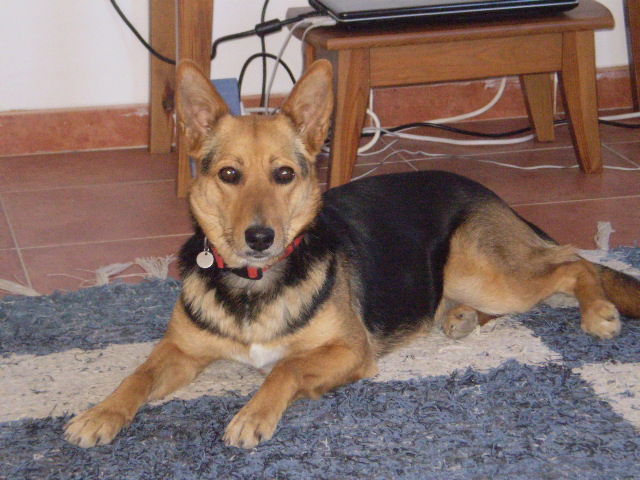 APSA, the animal charity based in Albox, have some happy success stories to share.
Linda, aged two, was owned by a Spanish family, however, she kept escaping and the family lived near a busy road.
APSA was asked to help in the rehoming of Linda, so off she went to the kennels.
At the same time, Anita and David were looking at dogs for homing on the website http://www.apsa.org.es/ and called Di, the homing officer, to arrange a visit to the kennels.
They saw, in the last pen, four dogs all barking and Linda, quiet but standing up with her tail wagging, it was love at first sight.
David had wanted an Alsatian and Anita a smaller dog, Linda looks like a small Alsatian, a perfect fit.
Now renamed Lindi, she has settled in her new home. She runs like a greyhound, has loads of space and keeps the couple fit with two walks a day.
Dogs are often reunited with their owners if they are chipped. A large white greyhound cross dog was rescued running amongst cars at a fiesta, APSA took her in and she was reunited with her ecstatic owner as she was chipped.
A lost German shepherd dog was wandering around an estate. Di from APSA took her in, contacted the owner via the chip details and, at the kennels, he whistled and the dog ran to him, both glad to see one another.
Can you give a dog a loving home? You will get lots of love (and exercise) in return, and a warm welcome when you return home.
Look out for the APSA posters showing the dogs for homing and the website http://www.apsa.org.es/ or ring 663 762 642 to view the dogs at the kennels. Or join us at the APSA, AGM at 2.30pm Wednesday April 2 at Jacks in Albox.